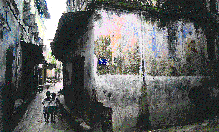 World of wonders on borrowed time
---

CHRIS McGREAL on the crumbling treasures of Zanzibar

---

NLY one of the Sultan of Zanzibar's three palaces survived the British bombardment of the "shortest war in history" 99 years ago. The grandest of them, known as the House of Wonders, took a few hits but was still standing when a pretender to the Zanzibari throne surrendered 38 minutes after the Royal Navy began shooting.
But decades of indifference and neglect have almost done what imperialism could not -- wrecked the House of Wonders, and with it the labyrinth of surrounding homes making up Zanzibar's historic Stone Town.
Some islanders accuse their government of carving up landmark buildings for offices or stuffing them with migrants as a deliberate strategy to denigrate monuments after the bloody 1964 anti-Arab revolt which overthrew the Sultan.
Others say Zanzibar's socialist "revolution" demanded other priorities. Either way, the island is turning to Arab benefactors such as the Aga Khan, rapid privatisation and newly embraced tourism to rescue the Stone Town. But it is still living on borrowed time.
HE realisation that Zanzibar's blend of African, Indian and Arabic influences was in danger of crumbling beyond repair gave rise to the Stone Town Conservation and Development Authority 10 years ago.
"Before we took over, you'd think twice before going into Stone Town," said its director, Ahmed S Ahmed. "Buildings were just falling down, especially in the rainy season. We lost lives here in Stone Town.
"That's when we suggested to the government we should sell some of those buildings to private individuals. This is what saved us because we sold more than 300 buildings, mostly to tenants, at about 20 percent of market value. But our demand was that they should be repaired within two years or we take the building back. It hasn't always happened, but we haven't taken any back."
But privatisation has been a double-edged sword. Some buildings were not restored so much as wrecked, to make way for hotels to meet Zanzibar's increasing popularity with tourists. The conservation authority has now banned the construction of more hotels in the Stone Town.
Foreign assistance has concentrated on the main historic buildings. The Aga Khan is spending millions converting one waterfront landmark into a cultural centre and library.
FEW metres away the United Nations is working on the customs house, and along the seafront the European Union is paying about R18-million to renovate the House of Wonders -- so called because of the scale of the building, designed by a British marine engineer who clearly was taken with vast verandahs.
But there are few funds to restore the bulk of the smaller buildings in private hands. Although individually they are of less historic value than those favoured by foreign donations, collectively the houses bearing down on the narrow backstreets are what makes the Stone Town.
The crumbling edifices are noted for eye-catching but easily eroded coraline rock construction, dilapidated but still elegant verandahs, and elaborately carved, heavy wooden doors decorated with brass studs -- an Indian technique to keep the elephants away.
Some owners cannot afford repairs while other cash-strapped Zanzibaris fall back on cheaper options, such as Portland cement, which is often incompatible with the original materials. In some cases the mismatch has caused collapse.
In other buildings, while the structure is saved, the ornamentation is sacrificed. African owners see little value in Arab emblems and mouldings, sometimes discarded or defaced because there is no cultural connection.
UCH destruction is one reason the Aga Khan is spending his millions on preserving the Old Dispensary built by Tharia Topun, a wealthy Ismaili businessman who made his money as banker to Zanzibar's most notorious slave trader.
The site architect, Stephen Battle, says lavish amounts of money were spent on the original building, which was designed as a hospital: "There was an incredible amount of ornamentation and sheer cash put into it for a hospital. The plaster work is neoclassical European, but look at the timber work and suddenly you have these carved pineapples sprouting out the woodwork. It's very eccentric.
"But when we arrived, it was in terrible condition. It had been occupied by migrants and there'd been no money spent on maintaining the building in 30 years."
The Aga Khan's interest is not entirely benevolent. Although he is renowned as a man who collects houses like others horde porcelain, he is also betting on a future for Zanzibar's tourist industry. A few blocks from the Old Dispensary, the Aga Khan is building one of the last hotels to be permitted in the Stone Town.
---
---
from: http://www.mg.co.za/mg/africa/zanzibar.html