Aga Khan Award for Architecture - Indonesia 1995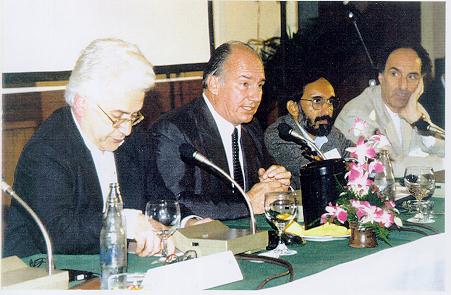 Photo Album of the Aga Khan Award Ceremony and subsequent events.
Reception and Dinner hosted by Mowlana Hazar Imam at Amrata Ballroom Melia Purosani Hotel- Yogyakarta
Friday 24th November 1995 at 19:00
Award Presentation Presentation Ceremony and Banquet at Karaton Surakarta, Surakarta.
Saturday 25th November 1995 at 19:00
Aga Khan Award Seminar at the Amrata Ballroom Melia Purosani Hotel- Yogyakarta
Sunday 26th November 1995 at 9:00
---

95ind01 - Professor emeritus (sorbonne) Dr. Mohammad Arkoun, Member of the Award's jury being greeted by Hazar Imam.

95ind02 - Mr & Mrs Nurcholish Madjid being received by Hazar Imam

95ind03 - Hazar Imam and princess Zahra arriving at their hotel in Yogyakarta

95ind04 - Mr Adhi Moersid, president of the Indonesian Architects (society?) standing next to princess Zahra. Next to him is Dr. Suha Ozkan, Director of the awards office in Geneva.

95ind05 - Location of the seminar, Melia Purosani Hotel, Yogakarta

95ind06 - Seminar closing speech by Hazar Imam

95ind07 - Mr. Nematjan Sadikov, Deputy Mayor of Samarkand (uzbekistan), discussing with one of the Ismaili guests.

95ind08 - Mr & Mrs. Nordiolish Madjid and Mr and Mrs Azim Nanji

95ind09 - Mowlana Hazar Imam and Princess Zahra arriving at the reception

95ind10 - Mowlana Hazar Imam and Princess Zahra welcoming guests at the reception

95ind11 - The Governor and Mayor of the city of Bukhara (Uzbekistan)

95ind12 - Mowlana Hazar Imam and Princess Zahra welcoming guests at the reception

95ind13 - Welcoming guests at the reception
---
Back to Timeline 1995
---