Press release on inauguration of Nation Group's new printing plant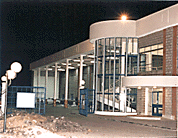 Nation Printers and Publishers, the leading media establishment in East and Central Africa, inaugurates its new state-of-the-art printing plant on Wednesday - , March 12, 1 997.
Erected on a 10-acre plot on the outskirts of Nairobi along Mombasa Road, the press, together with the custom-made building around it, represents an investment by Nation Newspapers Ltd of Ksh750 million (US$13.5 million) in the future of the media in Kenya. It also marks another milestone in the company's activities spanning more than 35 years.
The 11 am inauguration ceremony, to be held on the site located 19 km from the city centre, will be presided over by His Excellency President Daniel arap Moi in the presence of H.H. The Aga Khan who, in his personal capacity, is the principal shareholder of the Nation Group.
Invited guests include government Ministers and off~cials, members of the diplomatic corps, chairmen of political parties, representatives of international and nongovernmental organisations, parastatal chiefs and media executives.
The new press is the most advanced newspaper printing facility in Africa, incorporating the latest state-of-the-art facilities. Among its salient features are:
prints at up to 60,000 copies an hour
prints up to 56 pages
prints up to 8 pages of full colour
capabililty to print 16 pages of another product simultaneously
is fully computer-controlled Further investment on the site will include the company's transport unit which will be located from its present location within the city precincts later in the year for better effiency.

The Nation Group has five titles in its stable, with the flagship Daily Nation outselling its nearest competitor by almost four to one. The others are, Sunday Nation, The EastAfrican (a recent addition to serve the East African region), Talfa Leo and Taifa Jumapili.

The group's market share of the advertising sector is equally strong which, at 1,300,000 cms in 1996 was more than the rest of the daily naional press together.