Princess Zahra and Mark Boyden at the Aga Khan's French home after the wedding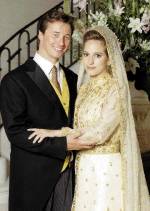 Aga Khan daughter marries Briton
BY SUSAN BELL
June 23 1997

PRINCESS ZAHRA, the only daughter of the Aga Khan, has married Mark Boyden, a farmer's son from Dorset, in a civil ceremony attended by European royalty and dignitaries from four continents.

The couple were married on Saturday at Aiglemont, the Aga Khan's mansion near Chantilly, 30 miles north of Paris, by the Mayor of Gouvieux, M Patrice Marchand. The wedding was blessed by Muslim leaders. A separate ceremony at the historic Château of Chantilly included recitations from the Koran and an Anglican blessing. Guests included King Juan Carlos and Queen Sofia of Spain, Crown Prince El Hassan bin Talal of Jordan and the Empress Farah Pahlavi.

The Harvard-educated Princess Zahra, 26, met Mr Boyden, who is ten years her senior, three years ago through mutual friends in France. Mr Boyden is a former pupil of the now defunct Dartington Hall School in Devon. He studied business administration at Oxford Brookes University, where he specialised in business ethics and human rights, before becoming a management consultant.

The couple are expected to divide their time between Britain and France.

From The London Times, June 23, 1997.
---
Back to Timeline 1997
---