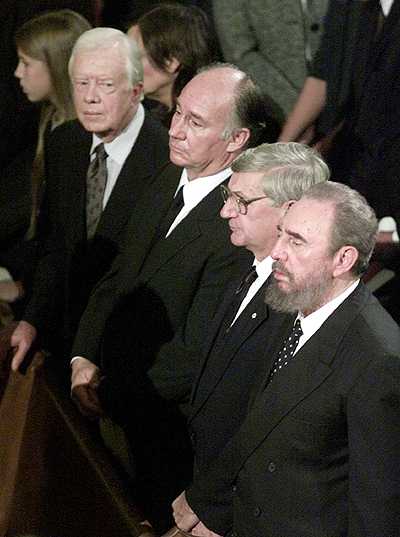 Prince Aga Khan was among the honorary pallbearers.
Oct 3, 2000
A close friend of the family for 30 years, he also represents a slice of Trudeau's Canada.
Trudeau vacationed twice on his yacht, once with Margaret. As prime minister, he single-handedly decided to open Canada's doors to Ismaili Muslims. How it came about was once related to me by the prince: " Pierre and I were friends and there was an informal understanding that if there was a racial crisis, Canada would intervene. So when Uganda's Idi Amin decided in 1972 to expel Asians, I picked up the phone, and Trudeau affirmed then and there that Canada would wish to help. His response was magnificent ".
Canada immediately opened a special diplomatic mission in Kampala. The doors were kept open from 6 a.m. to midnight. The office processed 6,000 Asians, including 5,000 Ismailis. Another 5,000 Ismailis came from Kenya and Tanzania.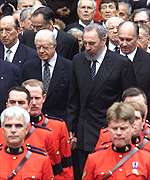 Later waves would swell their total in Canada to 45,000. They would prove a model minority - self-reliant, educated, organized and entrepreneurial. Among them: author M.G. Vassanji; lawyer Nurjehan Mawani, former chair of the Immigration and Refugee Board, Canada's largest tribunal; and Firoz Rasul, CEO of Ballard Power Systems, the current president of the Ismaili Council of Canada, who accompanied the Aga Khan to the funeral.
Jean Chrétien, too, is a fan of the community. At the height of the last recession, he bemoaned that what his hometown of Shawinigan lacked was 'a dozen Ismaili entrepreneurs'.
Haroon Siddiqui is The Toronto Star's editorial page editor emeritus.
---