Musharraf assures help for uplift projects
By Nizamuddin Siddiqui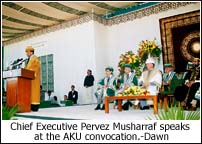 KARACHI, Oct 21: The Pakistan government would not be found wanting if organizations like the Aga Khan Development Network sought its cooperation and collaboration in the field of development, said Chief Executive Gen Pervez Musharraf on Saturday.

Speaking at the 13th convocation of the Aga Khan University, the CE stated that education and health projects were very important to him.

He announced that the Sindh government would provide a 400-acre plot for the AKU's proposed arts and sciences college on the Super Highway.

Gen Musharraf said scientific research was vital for the country's future. "That's why," he added, "we are establishing an endowment fund for research.

"Saying that my generation has failed the nation would be too harsh. But one thing I must say...we haven't performed well. Pakistan had abundant resources but these had been largely wasted because of mismanagement and corruption."

The CE urged the graduating students to work devotedly and with a sense of purpose and patriotism. "We pin our hopes on you. You must not fail the nation. Take your future in your grip. Take your destiny in your grip and Pakistan's destiny in your grasp."

He pointed out that a number of the graduating students would go abroad, "but they should not forget that their roots are here." He appreciated the AKU's proposed Institute of Islamic Civilizations (IIC), London.

Earlier, AKU Vice-Chancellor Prince Karim Aga Khan announced a $20 million grant for the establishment of the arts and science college.

He told the 5000-strong gathering that a plot was being bought for the purpose on "concessional rates" from the provincial government and added that the establishment of the college would enable the AKU to turn from a professional university into a multidisciplinary one.

He said that a unique treaty had been signed in August between the presidents of Tajikistan, Kyrgyzstan and Kazakhstan for the establishment of a University of Central Asia.