Musharraf pays tribute to Aga Khan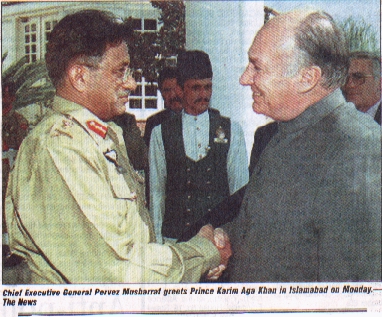 From Salahuddin Haider
Our Karachi Correspondent
Pakistan's military leader General Pervez Musharraf paid glowing tributes to the Ismaili community leader, Prince Karim Aga Khan, for his interest in the welfare of the Muslim Ummah and thanked him for building a superb university in Pakistan.
Musharraf, who came to Karachi for a short visit, delivered the keynote address at the 13th convocation of the Aga Khan Medical University in Karachi yesterday.
He stressed the need for research facilities and disclosed that his government intended instituting a "research endowment fund" to help promote research in universities. Musharraf said he was pleased that the Aga Khan University has successfully imparted quality education to its students in various disciplines. Its syllabi and methodology of teaching can easily be compared with leading institutions of the country.
The institution has set an example of quality education for all others to emulate, and has received international recognition.
He observed that two decades of experience in Pakistan has equipped the institute to share its educational expertise abroad. The accreditation that has been given to AKU in East Africa is unique, he said. It reaffirms the confidence of the governments of Kenya, Tanzania and Uganda, reposed in the AKU's ability to successfully introduce and maintain educational programme of highest quality.
Musharraf particularly lauded the establishment of an Institute of Islamic Civilisation in London under the auspices of the Aga Khan University. He remarked that the study of Muslim society and civilisation gains increasing relevance in view of the widening gap between the reality of Islam and its perception in Western thought.
"As we move forward into the 21st century and encounter the emerging challenges of globalisation and liberal modernism, the correct projection of our unique heritage and its relevance in the modern world assumes even greater importance."
The chief executive pointed out that one of the greatest assets of this university is the well-rounded student bodies. Its diversity and international character will be hard to match with any other educational institution in Pakistan.
Musharraf said, "The approach to accessibility is evident from your educational support programmes which ensures that deserving students are not excluded simply because of their financial problems. The quality and effectiveness of the university's programme make AKU internationally most competitive."