The Aga Khan Comments on Trends in Breeding Industry

by Blood-Horse Staff
Date Posted: 1/10/01 11:10:12 AM
Last Updated: 1/11/01 10:44:44 AM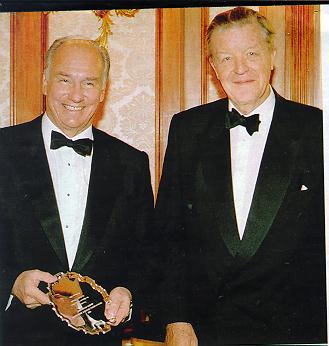 The Aga Khan spoke Tuesday night as the guest of honor at the Thoroughbred Breeders' Association awards' dinner


From Racenews
A sell-out Thoroughbred Breeders' Association Awards' Dinner heard the Aga Khan, the Guest Of Honor, expound on his breeding philosophy and then present the 13 awards for excellence in British Thoroughbred Breeding.

The Aga Khan had a very successful 2000, headlined by Sinndar winning the Vodafone Derby, the Budweiser Irish Derby and the Prix de l'Arc de Triomphe, and Kalanisi capturing the Dubai Champion Stakes and the Breeders' Cup Turf. Sir Michael Oswald, the TBA President, presented the Aga Khan with a silver salver to mark the achievements of 2000.

The Awards' Dinner took place Tuesday night at the Churchill Hotel, Portman Square, London W1, with 250 people attending. Sir Michael Oswald, who is stepping down after 36 consecutive years on the TBA council, also made a speech while the popular BBC television and radio presenter Clare Balding introduced the winners of the awards.
Text of The Aga Khan's speech:
"It is a singular Honor to be invited to address the Thoroughbred Breeders' Association on this occasion. You represent the historic memory, the admirable continuity and the strategic thinking platform that British breeders have brought to Thoroughbred racing.
"It is no accident that when my grandfather decided to enter the sport, he chose to register his colors here, before anywhere else in Europe. Every member of the team on which he built the foundations of his enterprise was educated, trained and engaged professionally here in England.
"For my grandfather no race carried greater prestige and glory than the Epsom Derby. He exchanged correspondence on breeding with his English racing friends and advisers, and he measured his successes against those of the best established figures of British racing."
(He went on to say that much has changed since then, with costs having "risen astronomically without a commensurate growth in income".)
"Only a very small minority of owners and breeders, many of whom are not English, can afford to view their racing and breeding activities outside carefully established and well monitored financial parameters.
"Thus, it is a source of great relief and renewed hope that racing in England is restructuring its finances, and a successful outcome has to be an industry-wide objective. I vigorously support Sir Michael's call that all the stakeholders should work together to build the industry's future on a new and permanently sound economic base."
(He then explained his worries and hopes for the future.)
"What a traditional breeder such as myself finds particularly difficult to manage today is the way in which the financial drivers of the breeding industry are changing it.
"An example is the 40-share stallion syndicate of a horse that never left his operating base, which is now being replaced by limitless books of mares for stallions who will travel to any market that will purchase their services. "The prices asked for top-of-the-line stallions have become prohibitive for the majority of breeders, causing them to forego using such stallions, except for the smallest number of uniquely qualified mares.
"In breeding terms the consequences are equally unpredictable, and, I might suggest, undesirable. The role of the female lines is likely to be diluted beyond recognition through the sheer force of numbers.
"On average a mare will produce some 12 healthy foals in her stud career. When one stallion can engender up to 300 foals per year, around the world, it follows that the global inventory of pedigrees in, say, 15 years will present breeders with a totally new problem. In those 15 years a mare will have produced some 12 foals, whereas a globetrotting stallion will have sired 4,500 foals! Of these, half, or 2,250, will be fillies.
"In these circumstances it is likely that so many of the top female lines will have been bred to such a small stallion base that circumventing these stallions, rather than using them astutely, will become a breeder's goal or should I say nightmare. Is that not already occurring with Northern Dancer?
"The majority of traditional breeders, who I believe generally place more importance in their pedigrees on the female rather than the male lines, will thenceforth need to scour the globe for foundation mares, or families, that are revealing themselves, before they have been crossed with the top-of-the-line globe-trotting sires.
"This is of course only a mathematical scenario. But it does represent the sort of long-term questioning that any traditional breeding operation needs to do in order not to find itself cornered by market forces. It is also an illustration of the ever-more essential and increasingly global breeding and market intelligence that will be needed to survive.
"For these reasons I have had to decide to create an Aga Khan Studs database, that will take no less than five years to build, that will need to be updated almost daily, but which I hope will be second to none. Amongst other uses, it will be a means for me to better understand, and determine how to address, the overuse of certain stallions, which is now a fact that cannot be avoided, and that all breeders will have to accept as reality. What does this entail?"
"While the market becomes more and more polarized towards big commercial operations, first-season sires and a handful of "top" stallions, the breeder with long-term goals, other than commercial gain, will have to defy this trend. Breeding decisions, which may seem to many unwise or unconventional, may in fact represent the key to our survival.
"This policy, which I introduced some years ago, is now showing promising results, just as statistics are showing that sending more and more mares to leading stallions does not increase their rate of outstanding offspring."
(He declared that Grand Lodge deserved recognition long before Sinndar and explained that breeding is an art not a science.)
"If interpretation is well founded and based on good observation, it can then be used as logic. Measured across the nearly 80 years of my family's Thoroughbred breeding in Europe, and the large number of bloodlines which we have managed and developed, I feel bold enough to say that logic has played a greater role than luck.
"Are there any rules to this than can be articulated? No there are not. The word rule contains a level of absoluteness that nature does not have, unless it has been manipulated. If there is a conclusion that I can share with you about Thoroughbred heredity, it is that when observation is translated into interpretation, and then into logic, fortuity (or luck or chance) becomes probability.
"Aga Khan breeding policies are anchored in the most stringent parameters of probability, developed over decades, and challenged regularly by exceptions that deserve to be tested.
"The trust we place in this process is enhanced by the success that other traditional breeders have had, and are continuing to have, in European breeding and racing.
"The question before us is whether our parameters of probability will be validated in the globalizing world of tomorrow's Thoroughbred breeding. I very much hope that the answer will be in the affirmative."
Copyright © 2001 The Blood-Horse, Inc. All Rights Reserved.