http://www.dawn.com/2002/03/11/nat3.htm
Dawn - 11 March 2002
Aga Khan meets Musharraf
By Our Staff Reporter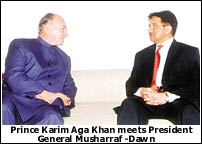 ISLAMABAD, March 10: The spiritual leader of the Ismaili community, Prince Karim Aga Khan, held a detailed meeting with President Pervez Musharraf in Rawalpindi on Sunday.
The president thanked the Aga Khan for his invitation to inaugurate the First Micro-Finance Bank sponsored by the Aga Khan Rural Support Programme and Serena Hotel, Islamabad, a project of the Tourism Promotion Services and the Aga Khan Fund for Economic Development. The formal opening of both is being held on Monday.
The president lauded the tremendous contribution to various philanthropic and social development programmes being undertaken by the Aga Khan worldwide, particularly in Pakistan. The First Micro-Finance Bank and Serena Hotel were a symbol of Aga Khan's continued commitment to Pakistan and its people, the president added.
Matters relating to the investment climate in Pakistan, tourism development and various other aspects of socio-economic development came under discussion.
Aga Khan appreciated the government policies. He thanked the president for the help being extended to various ongoing projects and said that he had a deep personal attachment to Pakistan and the welfare of its people.