http://www.pakobserver.com/photonews/photonews.html#p6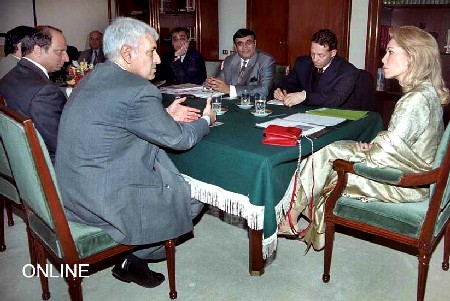 Begum Aga Khan honorary President Focus Humanitarian Assistance (FOCUS) discusses the repatriation of Afghan refugees with Hasim Utkan, UNHCR Representative for Pakistan & Daniel Endres, UNHCR Deputy Head of Mission, Afghanistan in Islamabad on Sunday.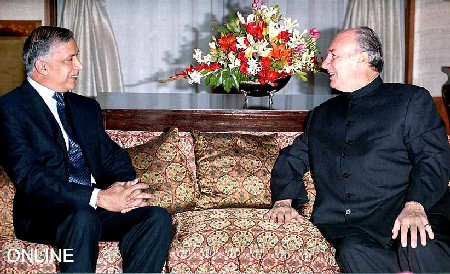 Prince Karim Aga Khan in a meeting with the Minister of Finance Shaukat Aziz at the Awan-e-Sadar in Islamabad on Sunday.
---
Pakistan Observer - http://www.pakobserver.com/march2002/11/front/fnews16.shtml
Musharraf praises Aga Khan for his services
Islamabad, Zilhaj 26, 1422 AH, Monday, March 11, 2002
ISLAMABAD—President General Pervez Musharraf will perform the inauguration of the First Micro-Finance Bank and the Serena Hotel, Islamabad, at two separate ceremonies here on Monday.
The First Micro-Finance Bank has been sponsored by the Aga Khan Rural Support Programme while the Serena Hotel, Islamabad, is a project of the Tourism Promotion Services and the Aga Khan Fund for Economic Development.
The Spritual leader of the Ismaili Community, His Highness The Aga Khan held a detailed meeting with President General Pervez Musharraf in Rawalpindi Sunday evening.
The President thanked the Aga Khan for his invitation to inaugurate the First Micro-Finance Vabk and the Serena Hotel, Islamabad.
President Musharraf lauded the tremendous contribution to various philanthropic and social development programmes being undertaken by the Aga Khan worldwide, particularly in Pakistan.
He said that in addition to these projects, the Firat Micro-Finance Bank and Serena Hotel were a symbol of the Aga Khan's continued commitment to Pakistan and its people.
During the course of the meeting, matters relating to investment climate in Pakistan, tourism development and various others aspects of socio-economic development came under discussion. The President informed Prince Karim of the measures that have been undertaken by the Government for the uplift of the people and its economic revival and reforms programmes.
The Aga Khan expressed deep appreciation of the policies of the Government.
He thanked the President for the help being extended to various ongoing projects and said that he had a deep personal attachment to Pakistan and the welfare of its people. He showed keen interest in the Government's reforms agenda and assured the President of his continued assistance and cooperation for social sector development in Pakistan.
Prince Karim thanked the Government and the people of Pakistan for the hospitality and welcome accorded to him.—APP
© Pakistan Observer 1998-2001
---