http://www.nationaudio.com/News/DailyNation/Supplements/horizon/current/story4.htm on
Thursday, May 23, 2002
Horizon (The Nation)
Hospital to train surgeons in new technic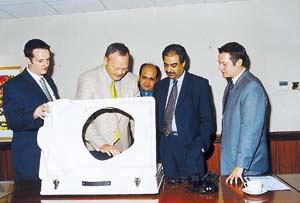 Mr Ian Cripwell, the chief executive officer of Aga Khan Hospital, Nairobi, examines a laparoscopic surgery machine donated by Johnson and Johnson. Looking on from left are Mr Colin Swanson of Johnson and Johnson, Dr Rafique Parkar and Dr Qureshi, the hospital's medical director.
---
The Aga Khan Hospital, Nairobi, has started training doctors in a new surgical technology.
The hospital has set up a regional training centre at which surgeons will be trained in minimum access surgery also known as laparoscopic surgery. This technic was introduced at the hospital two years ago and doctors have successfully performed close to 500 operations using it. The training, the fifth to be held, starts today and will last for two days. The 14 participants are doctors and nurses from the east and central African region.
Laparoscopic surgery will soon eclipse the open surgery that is still common in the region.
The technic is gaining popularity due to its advantages which include less pain, faster recovery and greater cost effectiveness.
Dr Rafique Parkar, a Nairobi consultant obstetrician, gynaecologist and laparoscopic surgeon says this "effective and revolutionary technique is gaining tremendous ground in Asia, Europe and America over the still common open methods prevalent in Kenya''.
Minimal access surgery is a patient-friendly approach to the diagnosis and treatment of common conditions. It involves a surgeon making a small stab through which a miniature TV camera is inserted. This enables the consultant to determine the cause of problems without the need for large incisions. The technique is also used for biopsies and increasingly for a number of surgical procedures.
Common investigations and surgical procedures carried out using this technique include the removal or the gall bladder or appendix and hernia repair. It can also be used in a number of gynecology procedures including the treatment of ectopic pregnancies, ovarian cysts, removal of fibroids, selected cases of infertility where tubal repair is undertaken and more recently even advanced surgeries like hysterectomy (removal of the womb).
A key advantage of minimal access surgery is that overall surgical risk to the patient is significantly reduced in adequately trained hands. Besides, the smaller incisions commonly used in this technique are less traumatic hence patients experience less pain after surgery. This in turn reduces the need for strong and prolonged pain medication as well as a reduced stay in hospital, minimising the patientís medical expenses.
On average, laparoscopic surgical procedures cost 25-35 per cent less when compared to the same procedure being undertaken by "open" methods of Surgery. Moreover, patients recover faster, with many being able to report back to work within seven to 10 days as opposed to one to six weeks of post operative rest and recovery period for "opení surgical procedures. This not only minimises employee sick pay, but also eliminates the need for additional patient care from family.
Scarring of the exterior abdominal wall is also significantly less, which is more cosmetically acceptable, particularly in women in the reproductive age group. Formation of adhesions in the abdomen is less common in laparoscopic surgery, hence post operative pain and related complications are reduced.
Nation Media Group. Copyright 2002.
---