The New Vision [Uganda]
Tuesday 28 May
By Vision Reporter

Museveni Receives Aga Khan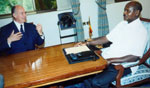 STRENGTHENING COOPERATION: Museveni meeting the Aga Khan at State House Nakasero in Kampala yesterday
President Yoweri Museveni yesterday received the head of the Ismaili Muslim community, the Aga Khan, at State House Nakasero.
The visiting Aga Khan paid a courtesy call on the President, according to a statement issued by the Presidentís Press Secretary Karooro Okurut.
Museveni discussed with the Aga Khan, issues concerning economic and social activities carried out by the Aga Khan Development Network mainly on education and health.
Finance minister, Gerald Sendaula, attended the meeting.
The Aga Khan has wide interests in insurance, education, health, banking and other key sectors.
---