AGA Khan Plans Varsity in Kampala
The Monitor (Kampala)
NEWS
July 17, 2002
Posted to the web July 17, 2002
By Badru D. Mulumba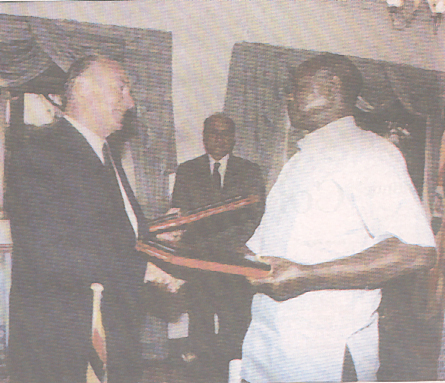 His Highness The Aga Khan (left)
exchanges the supplementary
protocal of co-operation for
development with President
Yoweri Museveni at State House,
Nakasero, yesterday

A new university should bring smiles on the faces of Uganda's doctors, nurses and teachers.

His Highness the Aga Khan yesterday named these professions as the main focus of a proposed Aga Khan University in East Africa campus in Kampala. The Aga Khan was jointly with President Yoweri Museveni addressing a press conference at State House, Nakasero, in Kampala.

The two leaders signed a supplementary protocol of co-operation for development between Uganda and the Aga Khan Development Network. The Aga Khan is the head of the Ismaili Muslim community. He said his organisation is interested in the development of human resources such as schools and medical professions.

"The first programme will be medicine," he said. "It will enable nurses to upgrade their skills." He said he is creating a network in Africa, South East Asia, and central Asia. The Aga Khan Development Network will also upgrade health institutions, schools, and assist teachers attain higher education.

Museveni told His Highness that the return of properties to Asians has improved their appearance. The president also revealed that the Aga Khan is to restart the leather tanning factory in Jinja.

"It's not just about building a mosque," he said. "You can't preach to hungry people, you preach to people who are satisfied." Several ministers attended the briefing, including State minister for International Cooperation Tom Butime and Senior Presidential Advisor Martin Aliker.
---