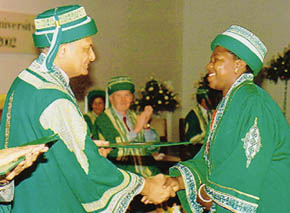 http://www.nationaudio.com/News/DailyNation/Today/News/News002.html
Saturday Nation
Saturday, September 21, 2002
By Nation Correspondent
KAMPALA, Friday
New university holds graduation
Ms Margaret Mukobe (right) receives her Master of Education degree from Mr Shamsh Kassim-Lakha at the Aga Khan University during its first graduation ceremony in Kampala, Uganda, yesterday.


The Aga Khan University in Uganda held its first graduation ceremony in Kampala yesterday.

Fifty seven nurses, teachers and school administrators received certificates and diplomas, including two Master of Education degrees after completing special studies at The Aga Khan University in Pakistan.

Addressing the graduates and guests, Uganda's Minister in Charge of the Presidency, Prof Gilbert Bukenya, said the graduation was an important milestone in the governmentís efforts to upgrade the quality of health care and education.

Prof Bukenya, who was the chief guest, said: "The future growth of our country is linked to the development of our human resources. Uganda needs educated, committed and caring nurses and teachers to ensure healthy bodies and healthy minds in all our citizens."

Aga Khan University President Shamsh Kassim-Lakha said nurse and teacher education programmes established in Uganda last year were regional initiatives aimed at developing skills and career advancement opportunities for professionals in Uganda, Kenya and Tanzania.

Chartered by the government of Pakistan as the nationís first private international university, AKU has seven teaching sites in five countries.

Its network of campuses and programmes in South and Central Asia, East Africa, Europe and the Middle East offers a wide range of programmes.
---