AFGHANISTAN: 16th century historical site under rehabilitation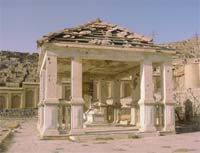 http://www.irinnews.org/report.asp?ReportID=30389&SelectRegion=Central_Asia&SelectCountry=AFGHANISTAN
AFGHANISTAN: 16th century historical site under rehabilitation
KABUL, 14 Oct 2002 (IRIN) - Work has begun to rehabilitate and preserve one of Afghanistan's most historical sites to its original splendour. The tomb of the 16th century Mogul emperor, Babur, and the grounds surrounding it in the Afghan capital Kabul, are to be restored to their former glory by Afghans themselves, with help from the Aga Khan Foundation and the United Nations Development Programme's (UNDP) Recovery and Employment Afghanistan Programme (REAP), funded by the Japanese government.

"Historically, this site is important to the people of Kabul as a picnic site on the holy day of Friday. We wanted to make it a more pleasant place for them to use," a programme assistant, Soraya Narfeldt, told IRIN at the famous site in the city's Gozarga area.

With a passion for creating an oasis wherever he went, Emperor Babur is famous for the gardens he built. "He loved Kabul, which is where he spread the Mogul empire of India from," she added. Before his death, Babur ordered that he be buried in the garden.

"It was supposed to be the garden of paradise. But during the civil war this place was used as a battleground," Narfeldt noted, adding that it used to be heavily mined (now cleared) and full of trees, which were all cut down and used for firewood.

Meanwhile, however, Afghans are already returning with their children on Fridays to enjoy the very few shrubs and plants remaining. "They want to come and enjoy their days off like anyone else, and they deserve a nice environment to be able to do this," she said. Some can now be seen enjoying a bike ride in the battered gardens, which still have a few varieties of flowers and greenery. The sky above is scattered with kites being flown by children previously forbidden to do so under the Taliban regime.

Although some work has already been carried out in the grounds recently by the United Nations Programme for Human Settlements (Habitat), much remains to be done. Being paid a daily wage of US $2, some 150 Afghans have been taken on to rehabilitate the area. "They are mainly returnees and IDP's [internally displaced persons]," Narfeldt said.

While UNDP is responsible for rehabilitating the surrounding walls, the Aga Khan Foundation will be refurbishing the tombs and gardens. Local people are being employed to reconstruct the pavilion which, before its destruction, used to serve as a venue for weddings and also housed a restaurant.

"The fact that these local people are being given an opportunity to work is making a great difference in their lives," an architect for the Aga Khan Trust for Culture, Abdul Wassay Najimi, told IRIN in Kabul. "They are using the money to rebuild their own homes in the mountains," he added.

"I think everything in life has a balance, and in Afghanistan they've had many years of not being allowed to have entertainment or pleasure. I think it is important for their sense of happiness and goodwill to be able to come to somewhere like this," Narfeldt observed. "It is their rest and peace of mind."
---