http://www.kabar.kg/english/02/Nov/04/1.htm
Photo-Kabar
04.11.02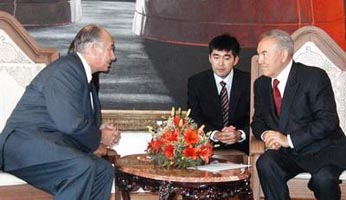 Bishkek, November 1. (KABAR). President of the Republic of Kazakhstan Nursultan Nazarbaev arrived in Kyrggyzstan to participate in the work of the Bishkek Global Mountain Summit. Prime Minister of the Kyrgyz Republic Nikolai Tanaev, writer Chyngyz Aitmatov, Ambassador of Kazakhstan to Kyrgyzstan Muhtar Shahanov and officials of the republic welcomed the head of Kazakhstan at the airport "Manas". According to the press service of the Kyrgyz Government, the leader of Kazakhstan intends to have dinner with President of the Kyrgyz Republic Askar Akaev and to meet with His Highness Aga Khan. N. Nazarbaev will attend in the Meeting of Council of Patrons and Farewell Reception for Summit participants "Sound from Mountain around the world" at the Opera and Ballet Theater.
©1998-2001 Kyrgyz National News Agency "Kabar"
---