http://www.coastweek.com/2611-15.htm
ISSUE NO. 2611
March 14 - 20, 2003
COASTWEEK - Kenya
AGA KHAN ACADEMY, MOMBASA, TO OPEN IN AUGUST 2003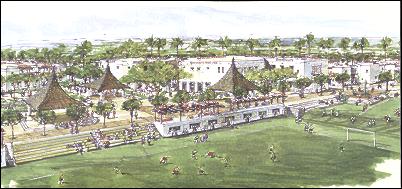 "In an effort to cultivate the best minds of Eastern Africa and to serve the intelligentsia of the region, this Centre of Excellence is being developed in Mombasa."

Coastweek - - The Aga Khan Academy, Mombasa, is scheduled to open at their new location situated along Kilindini Channel in August 2003 for the academic year 2003-2004.

It will be comprised of two schools:

Junior (presently known as the Aga Khan Junior Academy) and Senior (presently known as KENSEC).

In due course, the Aga Khan Nursery School will be relocated to the new campus.

In keeping with the mission statement of the Aga Khan Education Services, the academy will enable many generations of students to acquire both knowledge and the essential spiritual wisdom needed to balance that knowledge in their lives, and enable them to attain the highest fulfillment.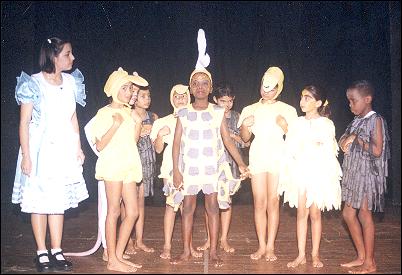 Coastweek - - ALICE - the Musical - Eighty students in all (from both the Aga Khan Junior Academy and Kensec) put on a brilliant performance at The Little Theatre Club in May 2002. This production recieved raving reviews in the local newspapers and entertained the Momhasa community at large. Students displayed acting confidence and the singing and dancing routines were faultless. (from left) Shreenal Ruparelia (as Alice); Zilna Shavdia (duck) ; Raheela Khan (mouse) hidden ; Rushab Shah (hedgehog) ; Kajal Dinesh (duck) ; Rishard Kabar (Dodo) ; Gary Howai (hedgehog) ; Preeti Rai (duck) ; Eliza Alarakhia ( Lory) ; George Sapaya (hedgehog).
Furthermore, and in keeping with the underlying education philosophy of the Aga Khan Schools, the Academy will continue to promote and provide quality, holistic and child centered education at an affordable cost at both primary and secondary levels.
In this regard, the Aga Khan Academy, Mombasa is committed to promoting academic, social, emotional and physical well-being of the child.
Consequently, the Academy will endeavour to provide the most desirable education in the region aimed at preparing its students to meet the challenges of a rapidly changing environment. It will also prepare the students to meet the admission requirements to prestigious universities of international repute.
A CENTRE OF EXCELLENCE
In an effort to cultivate the best minds of Eastern Africa and to serve the intelligentsia of the region, this Centre of Excellence is being developed in Mombasa.
Another Centre of Excellence will be developed in Nairobi.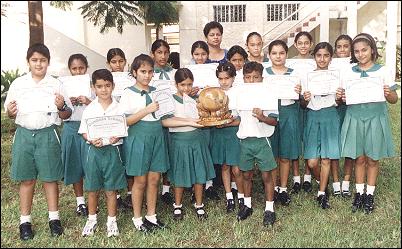 Coastweek - - MILLENNIUM CUP (2000) - six academy schools of Mombasa competed for the above covetous cup in four events namely: Art, Choir, Knockout Telematch and Public Speaking contests. The Aga Khan Junior Academy and Mombasa International School tied for first place. The Aga Khan Junior Academy competitors are seen (above) with Deputy Head, Mrs. Menezes.
This institution will offer an excellent work environment with contemporary facilities comparable to the most reputable schools in the world.
It will provide quality teaching and learning resources that are commensurate with the Centres of Excellence.
It will offer unparalled professional development opportunities for the faculty.
THE TEACHING FACULTY
In tandem with the policy of the Aga Khan Education Service, Kenya, the Academy will continue its tradition of recruiting exceptionally well-qualified and experienced teaching staff drawn from diverse multi-cultural backgrounds and nationalities.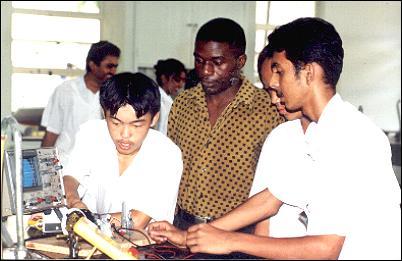 Coastweek - - KENSEC science students - FIRST at District, First at Coast and Second Overall at the Nationals.
The teaching faculty at the Centre of Excellence will be:
• Motivated and enthusiastic about teaching;
• Committed to growth through professional development;
• Able to weave in creative and best practices in teaching and learning;
• Dynamic in enriching the curricula to prepare our students for facing the challenges of living and working in pluralistic societies of a globalised world.
PROFESSIONAL DEVELOPMENT PROGRAMME
There will be a Professional Development Centre (PDC) located on campus.
This Centre will be affiliated to the Institute of Educational Development (lED) of the Aga Khan University.
It will address the professional development needs of the faculty by providing in-services, workshops and seminars in order to enhance the pedagogical skills as well as subject content knowledge.
The teaching faculty will continue to benefit from an International Academic Partnership (lAP) with Phillips Academy of Andover, Massachusetts in'U.S.A.
STUDENT ADMISSION POLICY
Admission to the Academy is open to all students regardless of their race, religion, nationality and social standing.
THE CURRICULUM
JUNIOR SCHOOL:- (Grades 1-6)
The British National Curriculum at Key Stages One and Two will continue to be offered at the Junior School.
French, Kiswahili, Computers, Religion and Culture are taught from class one. Where necessary, tutorial/remedial classes are organized for the pupils.
The school offers a wide range of co-curricular activities, which include:
Karate, Tae-kwondo, Music; French, London Academy of Music and Dramatic Arts (LAMIDA), Harry Potter club, Choir, Recorder, Tennis, Swimming, Cricket, Computers, Brownies and Cubs
THE SENIOR SCHOOL
The senior school curriculum includes:
• The British National curriculum - Key Stage 3
• International General Certificate of Secondary Education (IGC SE)
• GCE 'A' Level
• Kenya National Curriculum (8-4-4)
The co-curricular activities offered by the school at this level include:
Debating, Science club, Young farmers club, Swimming, Squash, Badminton, Football, Volleyball, Cricket
SCHOLARSHIPS
The policy of offering scholarships to meritorious students based on excellence in academics and co-curricular activities will continue at the Center of Excellence.
GUIDANCE AND COUNSELLING PROGRAMMES
Professionally trained counselors will provide careers guidance to youth seeking post secondary options.
In addition the counselors will provide social counseling to address the social, emotional and psychological needs of children and youth.
Presently, KENSEC organizes job placements during the school holidays for those students who are interested in acquiring work experience in areas of their future career preferences.
This will continue at the Aga Khan Academy.
SPECIAL NEEDS IDENTIFICATION AND TUTORIAL PROGRAMMES
Resource teachers will identify the learning difficulties of students and provide appropriate tutorial programmes to address their learning needs.
FACILITIES
Facilities at the Senior Academy will include:
18 classrooms, 2 Physics labs, 2 Biology labs, 2 Chemistry labs, General Science lab, 1 Home science lab, I Language lab, 1 Computer lab, I Advanced Computer lab, 1 Geography lab, Audio Visual and sound recording studio, Computer Aided Design room, Art room, Seminar rooms, Lecture theatres, Prefects lounge and a Senior students lounge.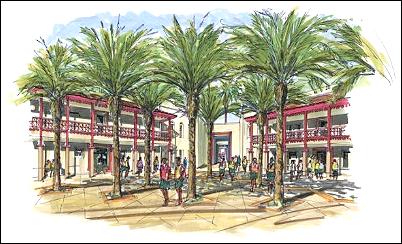 Coastweek - - Arrival Plaza and main entry with administration building.

The following facilities will be shared between the junior and senior school:

Library, Transport, Canteen, Tuck shop, Swimming pool, Athletics track, Wading pool, Squash courts, Volleyball / basketball court, Football pitch, Table tennis, Dance and exercise studio, Indoor badminton and basketball facility, 200 seater outdoor amphitheatre with stage and a 1000 seater indoor school hall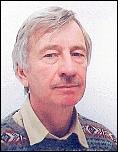 THE ADMINISTRATIVE TEAM
Each school (Nursery, Junior and Senior) will have a Head teacher.
A School Principal will provide leadership to the Aga Khan Academy.
Mr. John Young is the Principal Designate of the Aga Khan Academy, Centre of Excellence in Mombasa.
Coastweek - - Mr. John Young is the Principal Designate of the Aga Khan Academy, Centre of Excellence in Mombasa.
He will assume his responsibilities in April 2003.
Mr. Young has extensive experience in providing educational leadership to reputable international schools in Europe such as the Inter-Community School in Zurich, Switzerland and Vienna International School in Austria.
He was also the Head of Mathematics Department at the United World College in Singapore.
His educational qualifications include a B.Sc. in Mathematics, from Mc.Gill University in Montreal, Canada, a M.Sc. in Computer Science from the University of London, in U.K. and a Diploma in Education from the University of Nottingham, U.K.
Copyright © '96, '97, '98, '99, '00, '01, '02, 2003. Coastweek Newspapers Ltd.
Mirrored in www.ismaili.net
---