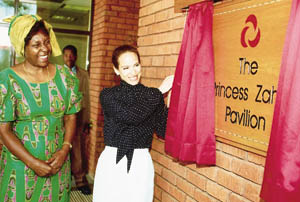 http://www.nationaudio.com/News/DailyNation/16032003/News/News160320037.html
Sunday Nation
Sunday, March 16, 2003
NEWS
By MURIITHI MURIUKI

Princess Zahra Aga Khan unveils a plaque at the Nairobi Aga Khan Hospital's private wing named after her. With her is Health Minister Charity Ngilu.
Aga Khan Hospital unveils private wing
A private state-of-the art health wing of Nairobi's Aga Khan Hospital was opened yesterday.
A private state-of-the art health wing of Nairobi's Aga Khan Hospital was opened yesterday.
The Princess Zahra Pavilion is a prestigious in-patient centre named after Princess Zahra, the eldest daughter of the Aga Khan.
Built at a cost of Sh1.2 billion, the 61-bed wing has eight executive suites, with a private entrance and lift. All its rooms are air-conditioned, with ensuite bathrooms and satellite TV. Also included is a mini-fridge.
The rooms will be used for specific purposes, such as labour delivery, recovery and postmortem services.
A nursery with special baby facilities is also part of the new wing.
Patients and their visitors in the pavilion have a choice of food from an a la carte menu should they require it, while a business centre with fax, computer, e-mail and secretarial services has also been installed.
Yesterday's ceremony, where Princess Zahra unveiled a commemorative plaque to mark the opening of the facility, was attended by Health Minister Charity Ngilu, Permanent Secretary Prof Julius Meme, and the directors of the Aga Khan Health Services.
Mrs Ngilu, the chief guest, urged the network to support the Government in making health services affordable.
She acknowledged the network's commitment to the provision and promotion of high quality health-care in Kenya, and welcomed plans to expand the hospital to enable it to offer tertiary care, including cardiology.
Princess Zahra said the Aga Khan Development Health Network was concerned about the high cost of providing health to the majority of the population.
"This needs to be addressed as a priority to enable as many people as possible access to affordable healthcare," she said.
This year, the network will introduce teaching programmes in medical services developed by the Aga Khan University for its medical campuses in Nairobi and Dar es Salaam.
The first of these, planned for this year, are medicine and surgery, with plans for specialisation in radiology, pathology, anaesthesia, obstetrics and gynaecology .
The Aga Khan hospitals in East Africa will be linked to a network of institutions in the region and to the resources of the Aga Khan University, one of Asia's leading research institutions in health sciences.
Mr Nizar Juma, the chairman of the board of directors of the Aga Khan Health Services in Kenya, said the opening of the wing was the first phase towards the development of the hospital to a medical teaching institution, tertiary and referral hospital for the region, expected to cost Sh2.6 billion.
Copyright ©2002, Nation Media Group Ltd. All rights reserved.
---