http://www.hinduonnet.com/thehindu/holnus/02142008.htm
The Hindu
April 14, 2003
National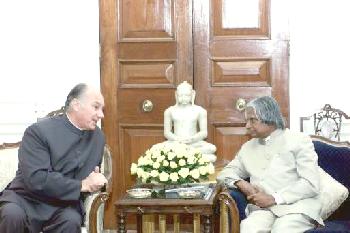 Aga Khan seeks stronger ties with India
(PTI photo shows President A P J Abdul Kalam with Prince Aga Khan at Rashtrapati Bhavan in New Delhi today.)
New Delhi, Apr. 14. (PTI): The Aga Khan, spiritual leader of the Shia Ismaili Muslims, today discussed with President A P J Abdul Kalam and Prime Minister Atal Behari Vajpayee possibilities of his development network working together with India in education, health, rural development and other areas.
On his first visit to India in 11 years, Aga Khan spoke about the potential for cooperation also in areas like healthcare, micro credit, financial services, humanitarian assistance and in the promotion of non-governmental organisations.
India is already having discussions with the Aga Khan Foundation for working together in Afghanistan in the education sector.
During the parleys, Kalam, who had a one-to-one luncheon meeting with the spiritual leader, suggested an integrated approach to accelerate the pace of development in the key sectors of education, health and rural development.
Khan said his trust had undertaken various projects in the three sectors in India and adopted 600 villages in Gujarat for their development.
It was also working on different projects in Maharashtra.
He will also have meetings with Vice President Bhairon Singh Shekhawat at whose invitation he has come, Finance Minister Jaswant Singh, Tourism and Culture Minister Jagmohan and Congress President Sonia Gandhi.
The Aga Khan will preside over a function tomorrow marking the formal opening of the restored Humayun's Tomb gardens which has been undertaken by the Aga Khan Trust for Culture in collaboration with the Archaeological Survey of India.
---