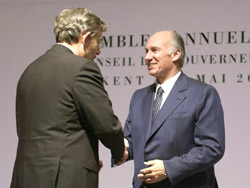 Photo: EBRD President Jean Lemierre and the Aga Khan.


http://www.ebrd.org/new/stories/2003/030505b.htm
EBRD.org
Main page on
May 6, 2003
Aga Khan: Development is more than growth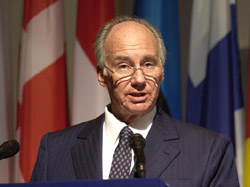 Photo:The Aga Khan, speaking at the Business Forum.
One main focus of the EBRD's Annual Meeting 2003 in Tashkent was the dialogue with non-governmental organisations and the impact the representatives of civil society have on the Bank's operations. The Bank received strong support for its efforts with a speech by the Aga Khan, the Imam of the Shia Ismaili Community and renowed philanthropist.
In the traditional Jacques de Larosiere Lecture the Aga Khan stressed that development is more than growth: "Development is a multi-faceted process" that aims "to stimulate and facilitate change in character, significant in impact, long-lasting in consequence, and sustainable into the future".
The importance of institutional development
To a packed audience dominated by bankers and businessmen the Aga Khan pointed out that economic development, although a "primary objective", cannot be the only aim in effort to improve people's lifes: "Other dimensions and challenges to development play at least an equally important role," such as health, education and institution building. "The non-economic dimensions of development often escape the attention they deserve because the degree of risk of not doing something is often underestimated."
As one of the most important lessons from his almost 40 years experience in the support of human development the Aga Khan cited the key importance of institutional development: "No country to my knowledge can achieve stable and continuous growth if its civil society is constrained by inherent institutional instability."
The need for the development of functioning, sustainable institutions serving the needs of all pillars of society is, in the Aga Khan's words, "universal".
Governments cannot do everything
This is even more so, he said, because it is generally acknowledged today that governments cannot do everything. Even greater therefore is the need for the active involvement of society in all fields of public life.
This, however, often proves to be difficult: the link between public institutions and private initiatives is often not clearly defined; and at the same time many civil society institutions are often faced with the "fundamental problem of identifying financial resources".
Regional cooperation "is critically important for Central Asia"
Supporting the view frequently expressed by EBRD President Jean Lemierre during the Annual Meeting the Aga Khan strongly stressed the importance of regional cooperation, which he said "is critically important for Central Asia".
Regional cooperation, however, should not be restricted to the commercial domain alone. "Pluralism, the recognition of people of diverse backgrounds and interests, organisations of different types and projects, different kinds and forms of creative expression, are all valuable and therefore deserving the recognition and support by government and society as a whole. Without support for pluralism, civil society does not function."
In his closing remarks President Lemierre not only thanked the Aga Khan for sharing his thoughts and experiences with the Bank, but also echoed his remarks: "Banking is not only about money", he said. It is also about development, poverty alleviation, and the support of civil society.
5 May 2003
---