---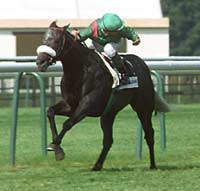 DALAKHANI
John Crofts photo
http://www.thoroughbredtimes.com/todaysnews/newsview.asp?recno=34085&subsec=3
Posted: 6/1/2003 1:45:00 PM ET
Thoroughbred Times
Dalakhani delivers with dynamite performance in French Derby
The Aga Khan's unbeaten Dalakhani reigned supreme once again as he thundered down the stretch to capture his sixth straight victory in the $1.3-million Prix du Jockey-Club (French Derby) (Fr-G1) at Chantilly on Sunday. The son of Darshaan scored by an impressive two lengths over Group 2 winner Super Celebre.
---
Dalakhani's sharp performance only enhanced the confidence that the Aga Khan had in his homebred.
"This is an amazing colt who is maturing all the time, an elegant and talented horse," the Aga Khan told Sporting Life. "He has such presence that it is not so much you who watches him, as him watching you when he races. Today was the first time that he really had to stretch."
With jockey Christophe Soumillon in the irons, Dalakhani shadowed pacesetters in the early going, simply biding his time to strike. Two furlongs out, Soumillon barely had to shake the reins, and Dalakhani reeled off a ground-covering stretch run.
Ecurie Wildenstein's Super Celebre, a three-year-old French-bred son of Peintre Celebre, tracked the winner throughout the early going under the guidance of jockey Dominique Boeuf. Rising to the challenge, Prix Noailles (Fr-G3) winner Super Celebre set sail down the straight in hot pursuit of Dalakhani, and managed to gamely rally for the runner-up spot. Coroner, winner of the Prix Hocquart (Fr-G2), finished three lengths behind Super Celebre.
The gray Dalakhani covered the 1½ miles over a good course in 2:26.70. Soumillon waved his whip close to home to enforce the vision that all had seen—he had never used it.
"He has run six times and won six times," Soumillon said. "It was a good pace and the way he traveled was unbelievable. Always he is better and better."
Dalakhani might be pointed toward the Irish Derby (Ire-G1) at the Curragh on June 29.
Undefeated in three starts as a two-year-old, Dalakhani notched his first win of the season in the Prix Greffulhe (Fr-G2) at Longchamp on April 20. He followed with a one-length tally over Super Celebre in the Prix Lupin (Fr-G1) at that same course on May 11.
Bred in Ireland, Dalakhani is one of four starters, all winners, for the Group 3-placed stakes-winning Miswaki mare Daltawa. He is a half brother to champion and sire Daylami (Ire), and Group 1-placed stakes winner Daymarti.
---