Business Line - Internet Edition
August 13, 2003
http://www.hinduonnet.com/bline/stories/2003081401561000.htm

---
DCB plans Rs 200-cr capital hike

Our Bureau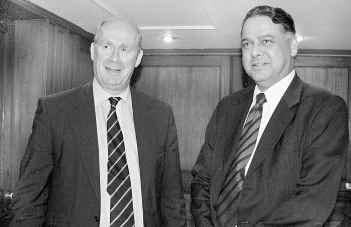 Mr John Harris, Head-Financial Services, AKFED (left), with Mr H.V.
Sheshadri, Managing Director & CEO, Development Credit Bank, at a press conference in
Mumbai on Wednesday. — Shashi Ashiwal
Mumbai , Aug. 13
THE Development Credit Bank, an old private sector bank, is looking for a capital infusion of Rs 200 crore in the current fiscal.
"We are in discussions with various investment banks exploring ways to raise capital. The plan is to raise Rs 125 crore through Tier I capital and the rest through Tier II,'' Mr H.V. Sheshadri, Managing Director & Chief Executive, Development Credit Bank, said.
About 40 per cent of the capital raised will be utilised to clean up its assets book through a write-off, while 60 per cent will be utilised towards building of branches and ATMs. The bank plans to increase its branches from 63 to 76 and ATMs from 48 to 100 by the year-end.
The bank has no immediate plan for an initial public offering (IPO). "We have to wait 2-3 years before floating an IPO,'' said Mr John Harris, Head Financial Services of Aga Khan Fund for Economic Development, which holds 49 per cent equity stake in the bank, here today.
The Paris-based foundation has investments in several developing and underdeveloped countries in financial and industrial sectors. It also runs many welfare programmes in Africa and South Asia to meet the educational and health requirements of people.
Mr Harris said, "Once the Government permits a higher FDI limit, we want to pick up more stake in the bank. We are not at the moment looking at more investments in India.''
The capital adequacy of the bank was at 10.7 per cent as on June 2003.
Net NPA ratio of the bank was at 7.7 per cent, while gross NPAs was at 9.07 per cent for the year ended March 2003, the target is to bring down the net NPAs to 4.5-4.9 per cent by March 2004.
Most of the NPAs have been from mid-cap and upper mid-cap companies.
---