Filed at: Tuesday , August 26 2003 12:38PM
http://www.rte.ie/sport/2003/0826/racing/soumillon.html
RTE Interactive SPORT

---
Soumillon likely to partner Alamshar in Champion Stakes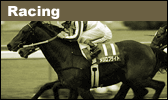 John Oxx confirmed yesterday that France´s top jockey, Christophe Soumillon, is likely to have his first ride for the Curragh trainer on Alamshar in Saturday week´s Irish Champion Stakes.
The confirmation came as the main rivals for Alamshar in the Leopardstown prize declared themselves on course for the €1 million Group One pot.
The double Derby hero High Chaparral, the Irish Oaks winner Vintage Tipple and the World Cup hero Moon Ballad from Godolphin are all on target to take on the leading three-year-old colt.
Soumillon, retained by the Aga Khan in France, will take over in the plate on Alamshar from John Murtagh, who continues to fight his weight problems on a break that began over a week ago.
"My understanding, from the last time we all spoke, is that Soumillon will ride. It´s the obvious course of action," said Oxx yesterday while confirming Alamshar was in good form ahead of his next start.
Filed by James McMahon
---