---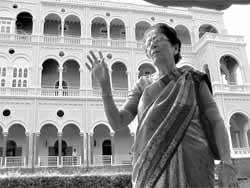 http://cities.expressindia.com/fullstory.php?newsid=64682
Express India
Thursday , October 02, 2003
Pune Newsline
Rewind to Gandhian era
Efs Pune: As Shobhana Ranade walks about the palatial premises of the Aga Khan Palace on the eve of Gandhi Jayanti, she marvels at the significance of the structure where Mahatama Gandhi was interned during the Quit India Movement, alongwith his wife Kasturba and secretary Mahadeo Desai. ''Gandhiji had made three predictions for The Aga Khan Palace in his writings. One, that this would become a place of pilgrimage. Today about 300 visitors including foreigners visit daily. Secondly he had said that the Aga Khan will donate this palace to the nation. This also happened in 1969 when the world was celebrating Gandhi Centenary,'' smiles the trustee secretary, Gandhi Memorial National Trust.

Thirdly, states 79-year-old Ranade, Gandhi had said, the place would work for the emancipation of women - because Kasturba's samadhi was there.

''My association with The Aga Khan Palace started in 1979,'' she reveals. ''I was with Acharya Vinoba Bhave at Pavnar Ashram. Many eminent Gandhians were there in a meeting discussing the development of the Aga Khan Palace at Pune - Vinobaji called me in the meeting and introduced me and said, 'She has returned from Assam and now settled in Pune. She will take care of the Aga Khan Palace. Before this meeting, I had been to the palace only once,'' states Ranade who has since been coming to the palace almost everyday.

''During the internment , Gandhiji lost his two dear ones - Mahadev Desai passed away on August 15, 1942 and Kasturba breathed her last on February 22, 1944. Gandhiji had built their samadhis with his own hands using mud and dung. When The Aga Khan donated the Palace in 1969, he marbled the samadhis before handing over. Sir Richard Attenborough shot for Gandhi on the campus. Rohini Hattangadi played Kasturba and spent hours at Kasturba's samadhi.''

Despairing over the days when the palace started deteriorating due to neglect from the government, Ranade is happy with it now being declared as a protected national monument. ''This will ensure that it will receive the attention and upkeep it deserves,'' she says.
---