---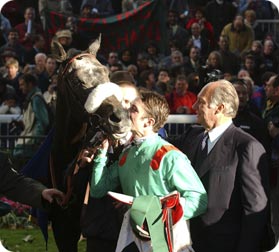 http://www.attheraces.co.uk/cgi-bin/attheraces/ukro/punter/personal/ppeAll.jsp?interactionManager=attheraces&browserName=ie&browserVersion=4&haveFlash=yes&haveReal=yes&flashVersion=4&realVersion=6&platform=pc&beenBefore=no&showWarning=no&detection=yes
At The Race
5 October 2003
Aga Khan praise for 'a real champion'
Christophe Soumillon, jockey Dalakhani: "It's a race I wanted to win throughout my apprenticeship and it's unbelievable to ride a horse like him. He's a real champion and I love him so much."

H H Aga Khan, owner Dalakhani: "He has got to be an outstanding horse, as a two-year-old, as a three-year-old and over all distances and all goings. He is a beautiful mover. I was worried about the ground as he hadn't won on it since he was a two-year-old, but he proved he could handle anything. It is always difficult to make comparisons between horses. This horse possesses a concentration of unusual talents."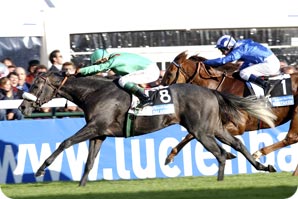 Richard Hills, jockey Mubtaker: "He's a good horse and he's got a big heart. He was just a bit fresh with me and ran a little bit keen going down the hill and got me on the quarters of First Charter, and I just had to pull him off. In this ground when you've got a horse travelling you've got to keep going forwards with them. It just shows what a brave horse he is. He tried to get back but the winner was too strong."
Michael Kinane, jockey High Chaparral: "I started to struggle at a vital point turning for home, but he laboured a little bit on the heavy ground. Maybe it doesn't suit him round here. He seems to be better going left-handed."
Bruce Raymond, assistant racing manager to Kris Kin's owner Saeed Suhail: "He was struggling with the pace and turning down the hill he got wiped out by Frankie's horse (Doyen). But he was always struggling on the track."
---