---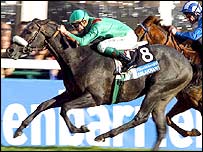 http://news.bbc.co.uk/sport1/hi/other_sports/horse_racing/3152812.stm
BBC
Sunday, 5 October, 2003, 15:57 GMT 16:57 UK
Dalakhani takes Arc glory
Day two from Longchamps

Dalakhani justified his status as pre-race favourite, powering home in a thrilling fast finish to win the Prix de l'Arc de Triomphe at Longchamp.

The French Derby winner - ridden by Christophe Soumillon - had to come in from stall 14, wide out on the right, and held off a brave challenge from Mubtaker.

Ireland's High Chaparral finished third in the 13-horse race for the second year in a row.

"It's a race I wanted to win throughout my apprenticeship and it's unbelievable to ride a horse like him," said 20-year-old Soumillon.

"He's a real champion and I love him so much."

At the seven-furlong mark Dalakhani found himself nestled at the back of the pack while his pacemaker Diyapour did his job up front.

It was Mubtaker - ridden by Richard Hills - who pushed for home first, surging into the lead on the false straight.

But the Aga Khan-owned Dalakhani showed his class as he poured on the pace, despite the soft ground, and claimed victory by three-quarters of a length.

"I was worried about the ground as he hadn't won on it since he was a two-year-old, but he proved he could handle anything," said the Aga Khan, who won his third Arc.

It was a disappointing day for Irish trainer Aidan O'Brien who watched as High Chaparral toiled back in third.

The four-year-old never really challenged for the lead and jockey Mick Kinane revealed that the horse does not find the Longchamp circuit to his liking.

"I started to struggle at a vital point turning for home, but he laboured a little bit on the heavy ground," said Kinane.

"Maybe it doesn't suit him round here. He seems to be better going left-handed."

O'Brien admitted he has yet to decide whether High Chaparral will travel to America to defend his Breeders' Cup title.

Frankie Dettori's bid to win his third Arc in a row was dashed when his mount Doyen finished back in fourth place.

Kris Kin, winner of the Epsom Derby, did not show any form finishing well down the field.
---