---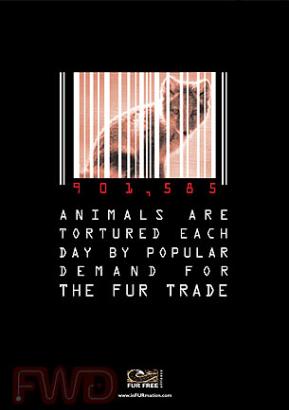 http://story.news.yahoo.com/news?tmpl=story&cid=1598&ncid=762&e=12&u=/fwd/20031017/en_fashion_fwd/fur_love
Fri Oct 17, 2:00 PM ET
Karl Treacy
Fashion Wire Daily
Fur Love to Fur Shame: Change of Heart for a Princess
Fashion Wire Daily October 17, 2003 - Paris -On Tuesday night, Le Bar du Plaza Athenée on Avenue Montaigne -- Paris toniest shopping street currently dripping in ultra-expensive winter pelts -- bore witness to a rather unusual event, as it hosted an award ceremony for a competition to produce anti-fur advertising, put on by The Fur Free Alliance.
After a brief but sharply worded speech by the Alliances patron, Princess Catherine Aga Khan, who lambasted fashion designers for promoting a fur "free-for-all, the two winners received their prizes. Nicolas Poitou, 25, from Tournai in Belgium won the grand prize with his image of a sleeping fox with a clothing label that reads "Size 38."
From Bedford in the UK, Daniel Howtons "Barcode," which won the special Marchig Award, was a "graphic reminder of the true suffering behind the consumer barcode." The delighted 18-year-old, in only his first year of college, said that while he had obviously had certain feelings towards fur in the first place, the research he undertook to produce his entry really opened his eyes. "Whatever about before, Im now never going to want to buy a mink coat," he professed.
The following morning at the Hotel Bristol, FWD spoke to Princess Catherine about her involvement in animal cruelty prevention. A former fur wearer herself, she was converted by a mixture of viewing an anti-fur video produced by David Bailey (news) and her late husband Prince Sadruddin Aga Khan questioning her moral ethics.
Prince Sadruddin, a former UN High Commissioner for Refugees, worked tirelessly all his life to help make the world a better place and with his wife founded the non-profit Bellerive Foundation, and in turn the Fur Free Alliance. With a karmic attitude to life and ingrained Greek superstitions, Princess Catherine said that as those "lucky enough" to be privileged, it was her and her late husbands responsibility to work to put something back. His father, Sir Sultan Mahomed Shah Aga Khan, initially sent him to Ireland to grow potatoes to learn about humility and hard work as a young man.
The Princess described the heartbreaking position of being in Iraq (news - web sites) after the first Gulf War (news - web sites) and the trade embargo, "watching all those children really dying in front of our eyes because they had no medicine or food. Sometimes situations are too far beyond your control. With animals you can maybe try more and succeed more. They have no voice whatsoever," she said.
"When I remember being young and wearing a fur coat, I was only 45 kilos, but I looked like a bear!" she said incredulously. Bemoaning the revival of the animal-derived product she said, "Its everywhere now. People saying Look at me, Im rich. Its only insecure people who need to wear fur. Insecure and nouveau riche."
A lapsed vegetarian, she has no intention of trying to force vegetarianism on the world. "Its generally a way of using everything," she explained. "With cows you eat the meat and then you use the skin. I have no problem with leather. It has to be used. Imagine if all those millions of skins every year werent usedimagine the results!"
The Fur Alliance is composed of 35 humane and conservation organizations worldwide, but PETA isnt one of them. Princess Catherine, who is not in favor of militant activism, will be unlikely to be found unfurling a banner on a Gaultier runway, instead favoring a system of change through education. "We provide people with the information and let them do what they feel is right with it," she stated simply. The winning posters from the Design Against Fur competition will be used by the Alliances members to increase awareness around the globe.
The Princess likes fashion but has found her allegiances to certain designers have had to change over the years. "I used to buy a lot at Valentino but then I just had to stop because he fell in love with fur. For a long time I only wore Armani but now hes started to use fur rabbit, I think -- which is such an unfortunate fur to use," she said sadly. "Couturiers, they have enough money. They dont need more money from fur."
If theres one little moment in the Princess life that has stuck in her mind and has changed the whole outlook of her life and her belief in a balanced world, it was a simple response from a Spanish journalist who declined an offer of more coffee. "I had what I needed," the woman replied. "It remained with me always", the Princess said, "it was the wisdom not to possess more than one needed."
---