---

http://www.icrc.org/Web/Eng/siteeng0.nsf/html/5SYKP8!OpenDocument
4-11-2003 ICRC News 03/139
4 November 2003
Red Cross
Afghanistan: ICRC hands over hospital wing to development organization
On 1 November, after two years of support, the ICRC handed over the surgical wing of Bamyan Hospital to the Aga Khan Development Network, a group of development agencies working in health, education, culture and rural economic development, primarily in Asia and Africa.
Gulbakht and her seven days old baby are both well after the operation and are encouraged to be out of bed as much as possible
For Gulbakht, having a baby was always something that happened at home. Her 10-year-old son was born there, and so too were her daughters, aged two and four. Her family, like most in Afghanistan, would never even consider seeking help from a midwife or doctor. Then, when her fourth baby was being delivered, there were complications.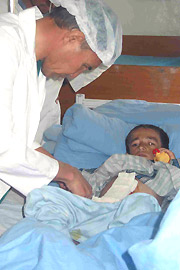 "The baby was upside down and wouldn't come out. My husband took me to the clinic near where we live," she said. The staff at the clinic quickly realized that the case was too complicated for them to handle. They took Gulbakht to the hospital in Bamyan - a journey of several hours by car - where she immediately underwent a caesarean section. The operation saved the baby's life and very likely the mother's as well.
"Thank God she's doing fine," said Gulbakht as she proudly held her seven-day-old daughter in her arms. Gulbakht can consider herself one of the luckier patients admitted to Bamyan Hospital. Other women on the ward didn't arrive in time to save the life of the baby they were expecting - and some never even manage to reach the hospital.
Gulbakht and many other people in need of medical attention prove the need for a well-run hospital in Bamyan, one of the poorest regions in Afghanistan. Since the ICRC first began supporting the hospital at the end of 2001, more and more people have become aware of the services it performs.
Dr. Ramazan is changing the dressing of a ten years old boy after he underwent a stomach operation "We have seen a steady increase in the number of patients, many of whom come a long way to reach us," said the hospital's surgeon, Dr Ramazan Karimi. He stressed that without the hospital many poor people in Bamyan and the neighbouring provinces would have no access to free treatment, which in many cases makes the difference between life and death. In the case of Gulbakht, who would not have been able to pay for her operation, this could not be more true. Gulbakht and her family survive on what little income her husband can earn. He works wherever there is work to be had, whatever it may be. Sometimes there is work, sometimes not. Remaining with his wife in hospital means foregoing the chance to work.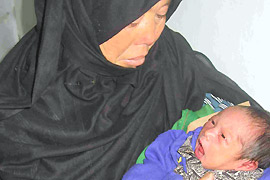 While Gulbakht was relieved that her newborn baby was well, she could not help worrying about the other three children who were being looked after by their grandmother at home. "My mother is very old and weak. I don't know if she has enough food for the kids. I haven't even been able to tell her that I am in hospital in far-off Bamyan. She only knew we were going to the clinic, then everything went so fast," she said. Dr Ramazan expected that Gulbakht would be able to return home in a couple of days.
Beyond emergency
When Bamyan Hospital began receiving ICRC support in 2001, it was suffering from many years of neglect caused by protracted conflict in Afghanistan. The Norwegian Red Cross donated a field hospital, including surgical equipment and an operating theatre that are still in use in the current hospital. The ICRC has carried out some building renovation, and will complete a new ward in November that will bring capacity to some 50 or 60 beds. Training of local hospital staff, which has been a high priority for the ICRC, will continue under the leadership of the Aga Khan Development Network. "As an organization that deals mainly with emergencies, we are fortunate to be able to hand over the surgical wing to colleagues who focus on development," said the ICRC hospital manager, Nelly Studer. She stressed the importance of the hospital continuing to operate beyond the emergency phase and providing treatment for anyone falling seriously ill.
For further information, please contact:
Helge Kvam, ICRC Kabul, tel.: +873 761 24 22 60
---