Pak Tribune
http://www.paktribune.com/news/index.php?id=46812
December 3, 2003

---
Prince Aga Khan arrives in Pakistan
Tuesday December 02, 2003 (1441 PST)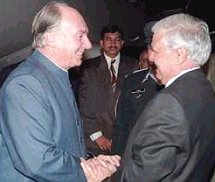 ISLAMABAD: Spiritual leader of Ismaili Muslims, His Highness Prince Karim Aga Khan being greeted by Federal Minister Aftab Ahmed Khan Sharpao at Islamabad.
ISLAMABAD, December 03 (Online): Spiritual head of Ismaili sect and Chief of Aga Khan Foundation Prince Karim Aga Khan arrived in Pakistan on Tuesday night on his visit to Pakistan. Minister for Water and Power Aftab Ahmad Khan Sherpa as well as other senior officers welcomed him at the airport.
Amid tight security the Prince was escorted to President's House where he would stay tonight.
He would meet Prime Minister Mir Zaffarullah Khan Jamali on Wednesday (today).
---