Karachi, Pakistan, 6th December, 2003

---
Aga Khan University's 16th convocation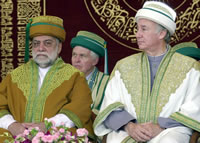 Reforming education vital to economic development: PM
* Jamali reiterates govt's resolve to improve quality of education
* Says initiatives being implemented to enhance primary school
enrolment, teachers' training and public-private partnership


Staff Report

KARACHI: Prime Minister Zafarullah Khan Jamali on Saturday told journalists at the 16th convocation of Aga Khan University (AKU) that the government was committed to reforming education because it was critical to Pakistan's economic and social development.

New education initiatives were being implemented that would enhance primary school enrolment, training opportunities for teachers and school administrators, spread literacy and encourage public-private partnership in education, Mr Jamali said.

He said many opportunities existed within these programmes for cooperation between the government and the AKU. He noted that the AKU's Institute for Educational Development already had a partnership for educational growth and social uplift, not only with the federal government but also the provincial governments and non-government organizations.

The prime minister said the government was determined to improve the quality of higher education and a task force with members from AKU played a major role in helping define what needs to be done to get things moving and achieve positive results in the field of education.

"We look forward to AKU playing a continuing role in this national quest for academic excellence. Indeed establishing a new faculty of arts and sciences in Karachi and offering quality education will be an important step in filling a critical gap in our higher education programmes," he observed.

"As Pakistan seeks to find its way to full and competitive membership in the global economy, the nation needs many more institutions like AKU," the PM added.

He said the government was determined to improving the economy, but it needed support from its higher education institutions. He said the AKU was a source of inspiration and the continuous generosity of AKU founder Prince Aga Khan was showing other members of society how philanthropic organisations could supplement the government.

Aga Khan University was chartered as Pakistan's first private university in March 1983. Since then it has become a national institution with an international reputation, contributing to the improvement of health and education in Pakistan.

The PM said it made him proud to know that the Aga Khan University had now carried Pakistan's flag beyond its frontiers, answering calls for help in Kenya, Tanzania and Uganda.

The university is also offering its expertise in rehabilitating nursing and education programmes in Afghanistan.

The PM referred to an institute established by the university in London for the study of Muslim civilizations and called it a most-timely move because never before had there been a greater need to bridge the divide between the Muslim and non-Muslim worlds.
---