http://www.southasianabroad.com/issues/topical/sagakhan.html
South Asian Outlook 2003

---
Citizen of the World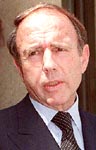 Prince Sadruddin Aga Khan

Humanitarian, philanthropist, international civil servant, a true "Citizen of the World"

By Dilnoor Panjwani

Prince Sadruddin Aga Khan, son of the late Sir Sultan Mahomed Shah Aga Khan and the late Princess Andrée Aga Khan, aged 70, died in Boston on May 12, after a short illness. Prince Sadruddin was the uncle of the present and 49th hereditary Imam (spiritual leader) of the Ismaili Muslims, His Highness the Aga Khan. The Aga Khan traces his lineage back to the Prophet Muhammad (peace be upon him) and Prince Sadruddin's grandmother was the granddaughter of the Qajar Emperor Fath'Ali Shah.
Born in Paris, France on January 17, 1933, Prince Sadruddin received his school education in Switzerland. He graduated in 1954 from Harvard University. After three years of post-graduate research at Harvard's Center for Middle Eastern Studies, Prince Sadruddin followed a family tradition in international service established by his father who had served two terms as President of the League of Nations.
Prince Sadruddin, a great philanthropist, selfless humanitarian, art connoisseur and environmentalist, whose name in Arabic means "defender of the faith", lived his life on Islamic principles of brotherhood, understanding and solidarity. He was brought up in the basic traditions and beliefs of Islam. Proud of his Muslim heritage, Prince Sadruddin has said, "The true message of Islam is about brotherhood and solidarity, as well as care for nature."
Prince Sadruddin had a deep understanding of the blend of the East and the West due to his Persian roots and European upbringing, which enabled him "to contribute to a better understanding of problems of a global nature, which know no borders," thus, making him a true" citizen of the world".
Prince Sadruddin had dedicated his life for humanitarian causes, having worked for nearly 40 years for the United Nations - for twelve years, beginning in 1965, he was UN High Commissioner for Refugees, coordinating the international response to crises in, amongst other countries, Bangladesh, Uganda, Sudan, Chile and Cyprus, Palestine, Vietnam, Angola and Algeria. Prince Sadruddin will be remembered as a benefactor of refugees all around the world.
No one has done more to relieve the suffering of the uprooted refugees around the world than Prince Sadruddin Aga Khan, 'who sloshed through muddy and diseased refugee camps' and helped to save the future of millions of families around the world, leaving behind a legacy and a road map for peace and relief in the years ahead.
In 1958, Prince Sadruddin joined UNESCO, becoming in 1961, Executive Secretary to its International Action Committee for the Preservation of Nubia, which brought together archaeologists from Eastern Europe and the West at the height of the Cold War to save the ancient treasures of Abu Simbel, the temples of Philae and Kalabsha and the Christian churches of Nubia.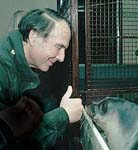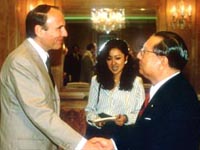 Prince Sadruddin had, since 1978, been variously: Special Consultant and Chargé de Mission to the Secretary-General of the United Nations, Special Rapporteur of the UN Human Rights Commission and Convenor and Co-Chairman of the Independent Commission on International Humanitarian Issues and of the Independent Working Group on the UN Financial Emergency. He was, later, Coordinator for United Nations Humanitarian and Economic Assistance Programmes Relating to the People of Afghanistan, Personal Representative of the UN Secretary-General for Humanitarian Assistance Relating to the Crisis between Iraq and Kuwait and Executive Delegate of the Secretary-General for a United Nations Inter-Agency Humanitarian Programme which dealt with problems of Iraq's border areas.
In 1977, Prince Sadruddin, together with Denis de Rougemont and a few other friends, established in Geneva, a think-tank, Groupe de Bellerive (named after his Geneva property), and a non-profit organisation, the Bellerive Foundation, a leading grassroots action group promoting environmental protection, natural resource conservation and the safeguarding of life in all its forms. As trustee and former Vice-President of the World Wide Fund for Nature International (WWF), Prince Sadruddin led Bellerive's support for threatened species.
A recipient of several honorary doctorates and national decorations from states as diverse as Egypt, Pakistan, Poland and the Vatican, as well as the United Nations Human Rights Award, Prince Sadruddin was a Bourgeois d'Honneur de Geneve, Commandeur de la Legion d'Honneur and most recently, named Knight Commander of the Order of the British Empire for his services to humanitarian causes and the arts.
Prince Sadruddin Aga Khan was also a connoisseur of art, having one of the finest private collections of Islamic art in the world that required only thirty years to be put together. The Prince's Islamic art collection is comprehensive in Muslim chronology, aesthetics and geography. Prince Sadruddin possessed many copies of the holy Qura'n, including a page from the early tenth century, which is an outstanding example of Islamic calligraphy.
Prince Sadruddin's personality was an embodiment of a rare combination of reflective wisdom and outspoken activism. He brought to each of his endeavours a commitment of intellect and passion. Having a knack for a sharp analysis of contemporary affairs, Prince Sadruddin's contribution to diplomacy as well as to the preservation of the environment and cultural heritage drew on deeply rooted ethics. He was, in the words of President George Bush, "a man of great compassion and principled action."
Widely known for his generosity and warm personality, Prince Sadruddin was highly regardedand greatly respected by family and friends and held in deep affection by the Ismaili Muslim Community around the world. His support for the Community and for the work of the Ismaili Imamat in improving the quality of life for people across the developing world was unfaltering.
Prince Sadruddin is survived by his wife of 31 years, Princess Catherine (formerly Catherine Aleya Sursock) as well as his nephews, His Highness the Aga Khan, Prince Amyn Aga Khan, his niece, Princess Yasmin Aga Khan Embiricos, and his stepsons, Alexandre, Marc and Nicholas Sursock.