HELLO Magazine
9 MAY 2003
---
Cherie Looks East With Her New Fashion Statement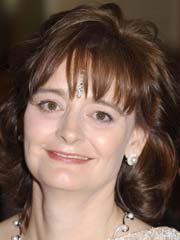 Tony Blair's wife Cherie made a striking entrance at an Asian awards ceremony by wearing a cream and gold sari complete with a bindi.

In Hindu culture the jewelled accessory, worn on the forehead, is meant as a symbol of good fortune and festivity. While it was once considered an indicator of marital status, bindis have become increasingly popular as a style accessory, largely thanks to the likes of Madonna and Victoria Beckham.

Mrs Blair was at the Asian Women of Achievement Awards to present the Professional of the Year honour to Professor Faraneh Vargha-Khadem, who is the head of Developmental Cognitive Neuroscience at University College London.

"The reason why people are here tonight is because they, like myself, are so proud of what we do here in Britain to celebrate a multi-cultural community," said Cherie.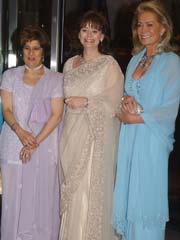 "The fact we can all get together here and celebrate the achievements of so many different Asian women from all sectors of society, celebrating their differences and achievements, is absolutely fantastic."
She was joined at the ceremony by the Aga Khan's wife, Her Highness Begum Inaara Aga Khan.

Picture on right: Cherie arrives at the ceremony with Pinky Lilani, who founded the awards, and Mrs Renate Thyssen-Henne