---
http://www.coastweek.com/2713-02.htm
Coastweek - Kenya
March 26 - April 01, 2004
ISSUE NO. 2713
BRAND NEW LOOK FOR AGA KHAN HOSPITAL CHILDRENS' WARD
official opening BY Ian Cripwell
Coastweek - - Paediatric Support Group (PSG) of Aga Khan Hospital has completely refur-bished the children's ward at the Hospital.
The Paediatric ward at the Aga Khan Hospital, Mombasa, was officially opened on he 18th March 2004 by Mr. Ian Cripwell CEO of the Aga Khan Hospital.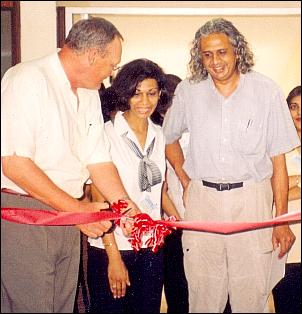 Coastweek - - Aga Khan Hospital Mombasa CEO Ian Cripwell (left) is seen when officially opening the refurbished Paediatric Ward. Looking on (centre) is a delighted Paediatric Support Group Chairperson Mrs. Tanuja Walli and Eye- catchers Limited Mombasa managing director Mehul Dave.
The Paediatric ward which consists of a children's play area, private rooms and the general ward have been fabulously redecorated and refurbished to create a "child friendly" ambience, making the stay of any child at Aga Khan Hospital comfortable and pleasant.
The PSG of the Aga Khan Hospital undertook the whole project and donated Shs. 25,000/= towards the redecorating of the Paediatric wards.
A PSG spokesman said: "The Paediatric Support Group would like to thank Mr. Ian Cripwell and the management of the hospital for their corporation and continuance support. .
colourful furniture for play area
"Mr. Mehul Dave of Eye Catchers volunteered his professional services towards this project.
"Credit also goes Mr. Chetan Vagadia of White Eagle Interiors who designed and made the colourful furniture for play area."
The PSG is a voluntarily group whose principal aim is to work towards improving paediatric services at the Aga Khan Hospital.
The group provides moral emotional and psychological support to the parents and families of children with chronic illness.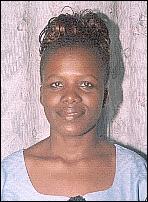 Coastweek - - Dorcas Odhiambo, a nursing staff from Aga Khan Hospital Mombasa Maternity Ward, is presently undergoing a conversion course from En-rolled Nurse to Registered Nurse at Kijabe school of Nursing which is partly sponsored by the hospital.
The group regally organises educational lectures not only to assist parents in understanding conditions but also to enhance the community's awareness of paediatric health issues.
One of the PSG's major ongoing projects is working towards assisting children who require urgent heart surgeries.
The group is in the process of arranging a few children to be assessed at Mater Hospital in Nairobi and in Madras in India. .
---