---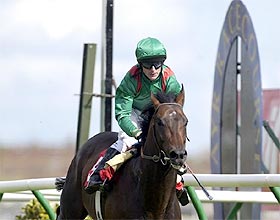 http://sport.scotsman.com/racing.cfm?id=826562004
The Scotsman
Tue 20 Jul 2004

JIM KEAN
Kieren Fallon lands the spoils on 5-6 favourite in yesterday's Scottish Derby at Ayr. Picture: Stephen Mansfield
Kalaman adds to Aga Khan's haul
WHEN it comes to winning derbies, not many can do it as well as the Aga Khan can. Those famous red and green colours of his have already been carried to victory in four Blue Ribands at Epsom, plus five of the Irish version, and at Ayr yesterday Kalaman ensured the Scottish equivalent was added to the role of honour.
Success for the Kieren Fallon-ridden winner wasn't without its hiccups, with the champion, his mount and the legions who had bet them into 5-6 favourite having to survive an anxious wait for the stewards to confirm the result.
Scotland's only Group 2 contest began much as expected with Mark Johnston's Gateman bursting from the stalls to establish an early lead that at one stage must have stretched to about ten lengths.
Fallon, sitting quietly in behind, seemed unperturbed about the events unfolding up ahead of him and when he produced the Sir Michael Stoute-trained colt to make what proved to be a winning challenge the huge crowd of over 9,000 got ready to roar the pair home.
This, though, was Kalaman we were talking about, a horse who has frequently given the impression of not being the most straightforward individual in the world and just when it seemed the £100,000 race was in safe keeping, he decided to cross over to the far rail, a manoeuvre which forced Keith Dalgleish to snatch up the rallying Gateman.
The ding-dong-ding that precedes a stewards' inquiry was inevitable and it duly arrived but after some careful deliberation the welcome "placings remain unaltered" was announced.
Fallon may have kept the race but he was still handed a date at the Jockey Club after a steward saw him using a mobile phone handed to him in the parade ring after the race.
With the temperatures soaring, punters might earlier have thought this was one Fair Monday meeting when things might go their way, but they really should have known better.
Within a minute or so it took to run the opener, such illusions were cruelly shattered when 20-1 shot Ballycroy Girl caused such an upset, even her trainer Alan Bailey was taken aback.
"On what she showed last time I couldn't have fancied her but two furlongs out it was clear nothing was going better than she was," said Bailey.
It was the nightmare start to the holiday racegoers must have dreaded, though if anyone was feeling worse than them at this stage it was Jimmy Fortune.
Injured on Saturday night, the jockey had been scheduled to partner Ballycroy Girl, but had to give up the mount to Eddie Ahern and had he watched the victory at home, it would have been through clenched teeth.
He would, however, have been apoplectic when The Crooked Ring, another he should have ridden, landed the nursery in the hands of substitute pilot Robert Winston.
The David Evans-trained youngster had been consistent enough this season, but with only one win to his name he was one of the more exposed in the field, not that he let that worry him and he scooted home a length clear.
Airwave went to post for the Land O'Burns Stakes with something to prove after a couple of below-par performances this term and Henry Candy's classy filly duly laid some ghosts to rest with a smooth triumph.
This time, with Darryll Holland taking over from regular rider Dane O'Neill, there was no repeat of the slow start that has plagued her so often in the past and it was mostly plain sailing. A trip to Baden-Baden might now be in the offing, though the Nunthorpe at York is a more likely destination, according to Candy.
Her win was the catalyst for the pendulum to take a welcome swing against the layers and though Top Dirham's success was closer than his supporters might have wished he got there in the end.
Mick Easterby's gelding looked to have matters in hand, but runner-up Vicious Warrior conjured up one last lunge though it wasn't enough to peg back the Fallon-ridden winner.
The champ then produced Kalaman to leave the bookies in shock, though the last word, as it frequently does, went to a woman when Alex Greaves drove her husband's Machinist to victory in the last.
The recent furore over betting exchanges has apparently made some racecourses wary of accepting sponsorship from Betfair, but Ayr and Uttoxeter obviously have no such qualms. The company sponsor both of today's cards and the nap goes on Lennel.
The six-year-old hasn't really cut the mustard this term but he hinted at better things to come when fourth at Haydock on Saturday night and this could be the day he delivers.
---