---
http://www.monitor.co.ug/news/news07211.php
Monitor [Uganda]
21 July 2004
Aga Khan graces UMEA anniversary
By Richard M. Kavuma
July 21, 2004
KAMPALA — The Aga Khan has urged Muslims to strive to create a better future for the young generation. The Spiritual Leader of the Ismaili Muslim Community was yesterday presiding over the 60th anniversary celebration of the Uganda Muslim Education Association (UMEA) at Kibuli Mosque.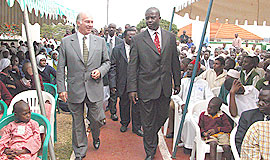 DISTINGUISHED VISITOR: His Highness the Aga Khan (L) with Prince Kassim Nakibinge at Kibuli Mosque yesterday (Photo by James Akena).
The association promotes education for Muslims. His grandfather, Sultan Muhammed Aga Khan, was instrumental in the success of UMEA, supporting it on formation by Prince Badru Kakungulu in 1944.
The jovial Aga Khan said the formation of UMEA was inspired by the determination to give Muslims a better future. "It is our responsibility to build the future for our brothers and sisters," he said, after touring Kibuli Muslim Hospital and the School of Nursing.
Listening to him were hundreds of students from about 150 Muslim schools in Uganda. He praised UMEA, saying it was helping to build a foundation for civil society institutions that would shape society.
The First Deputy Premier Moses Ali, the Minister for the Presidency Mr Kirunda Kivejinja, Mufti Sheikh Ramadhan Mubajje and other eminent Muslims attended the colourful ceremony.
Kivejinja, the chairman of the organising committee of the weeklong celebrations, explained that Muslims lag behind in education because it was spearheaded by Christian missionaries. It was not until educated Muslim elite like Kakungulu intervened, that the situation began to improve.
He said a small but impressive Muslim elite had since emerged. When he asked all Muslim graduates to stand up many rose. Kivejinja called for a programme to produce a Muslim generation to fit the scientific and technological age, a proposal the Aga Khan pledged to support.
Kakungulu's heir, Prince Kassim Nakibinge thanked the Aga Khan for gracing the occasion: "We have been deeply touched by this demonstration of brotherhood and friendship."
The Aga Khan paid a courtesy call on Nakibinge at Kibuli and was later scheduled to meet President Yoweri Museveni.
© 2004 The Monitor Publications
---