---
http://www.newvision.co.ug/detail.php?mainNewsCategoryId=&newsCategoryId=13&newsId=373862
New Vision, Kampala
Thursday July 21, 2004.
Aga Khan visits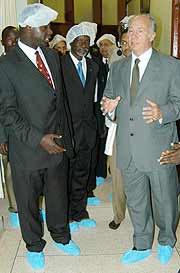 GOOD WORK: Nakibinge, Kivejinja and the Aga Khan
By Jude Etyang
THE Aga Khan yesterday made a historic visit to the Kibuli Mosque and pledged to continue the solidarity his fore-fathers started with Ugandan Muslims 60 years ago.
He said the Aga Khan institution, which controls a global business empire, would support Muslim-founded civil society organisations.
"One of the reasons we wanted to work together is to create opportunities for our brothers and sisters to live better lives. Our institution will be at your service to try to build a civil society that will serve the muslim ummah (community)," he said.
The Aga Khan spoke during celebrations to mark the 60th anniversary of the Uganda Muslim Education Association (UMEA).
UMEA, which launched the building of Muslim-founded schools in Uganda, was started by the Aga Khan's grandfather, Sultan Muhammed Aga Khan and Prince Badru Kakungulu.
Prince Kassim Nakibinge Kakungulu hosted the Aga Khan and presidency minister Kirunda Kivejinja at his residence.
Published on: Wednesday, 21st July, 2004
---