---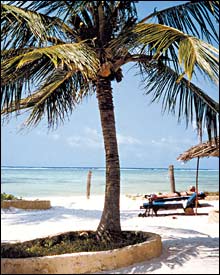 http://smh.com.au/articles/2004/08/27/1093518072009.html?oneclick=true
Fairfax Digital
August 27, 2004
Lost in spice
A warm winter day at Breezes Beach Club. Photo: Susan Wyndham
Susan Wyndham explores Zanzibar's heady mix of history and culture.
Invisible behind loudspeakers in their minarets, the muezzins start their call to prayer at 6.20 on a Friday night. The fugue of male voices bounces off Stone Town's rusting roofs. A canvas-sailed dhow passes in front of the red sun as it melts into the Indian Ocean. Zanzibar is at its most Arab and ancient.
On the second-highest rooftop, 20 Europeans and two Australians sit on silk floor cushions and cling to their gin cocktails like 21st-century refugees blown in on the relentless southerly wind. As tourists we will barely begin to peel back Zanzibar's layers of history and intrigue. But at least we can leave our shoes at the door and enjoy the food (seafood, spices, coconut) and dancing (frenzied buttocks at eye level) in the Tower Top restaurant at Emerson & Green, an American-owned hotel in a historic, steep-staired palace.
The restaurant provides a guide to walk us back to our hotel through Stone Town's maze of streets, most too narrow for cars. During the day we had happily got lost among the crumbling limestone buildings with their fine balconies and elaborately carved and brass-studded doors. But at night I worry we might never find our way out.
The young man in white tunic and embroidered cap leads us on a winding route. He speaks enough English to exchange names and ask how many babies I have; our Swahili stops at "Jambo" (hello) and "Asante sana" (thank you very much). The town is livelier than I'd expected. Men sit in doorways listening to tinny radio music; shop signs throw a weak light onto potholed cobblestones.
At the door of our opulent waterfront hotel we offer the guide a $US1 ($1.40) tip. He withdraws his hand, looks offended and says, "It is $US2." Having handed over hundreds of dollar bills in tips on our travels through Tanzania, we have run out. So he scores a £5 ($12.50) note. We feel very tired.
Change is coming quickly to Zanzibar. Some locals fear tourist development is happening too fast around the coast, corrupting the land, the people and their culture. But most visitors will still be entranced by this tiny place with a grand history and rough-edged integrity mixed with enough modernity for comfort.
Stone Town, the mysteriously beautiful old town, was added to the UN World Heritage List in 2000 as an intact example of the Swahili coastal trading towns of East Africa. There's a shorthand summary of its culture in the minarets, church spires, Hindu temples and mobile phone towers that spike the skyline.
From the ninth century, Arabs and then Persians mixed with the indigenous people. The twin islands of Zanzibar and Pemba were ruled by the Portuguese from 1500 until Omani Arabs ousted them 200 years later. Sultan Said the Great ran his Imamate from Zanzibar rather than Muscat in the mid-19th century, giving the islands prominence as the centre of world trade in cloves and slaves. British explorers such as David Livingstone and John Kirk helped end the slave trade and Zanzibar became a British protectorate in 1890, until independence and a bloody revolution that deposed the last sultan in 1963.
Zanzibar joined Tanganyika to form socialist Tanzania a year later, but Zanzibar's 1 million people remain more Arab than African, 98 per cent Muslim, and still try to assert their separateness. In March, resentment of the mainland government broke out in several arson attacks; a hand grenade was thrown into a restaurant. There are fears of more unrest before the election in October next year. But there's no hostility directed at foreigners. Despite the blow of September 11, tourism has been an economic mainstay since Tanzania became a democracy in 1995.
Zanzibar's real violence is in its past. On a walking tour of Stone Town we are shown into two airless caves where Arab traders crammed slaves brought from East Africa. Those who did not starve or suffocate were sold to the Seychelles, Mauritius, Oman and India; castrated in the latter two countries, they have no descendants. Before auction they were beaten under the "whipping tree" and those who cried out were sold at a discount. When slavery ended, the market was sold and donated to English missionaries, who built an Anglican cathedral on the site. Amid Italian marble and stained glass, the stump of the whipping tree sits bluntly on the altar.
At the hub of the town the food markets are vivid and gruesome. Men slaughter chickens and throw down money at the fish auctions; women examine bloody slabs of meat. There are fruits, vegetables, spices and bundles of sugarcane, its juice sold by the glass mixed with lime and ginger. Fish and charcoal are unloaded on the pungent waterfront. Clothes and shoes consume entire alleys. We dodge shopkeepers clamouring to sell us souvenirs ("Looking is free!") and plunge into dark rooms full of brass-clad chests, antique doors, lamps, ceramics and jewellery.
Stone Town's best buildings are being restored gradually, often with aid from the Aga Khan's foundation, which pours money into Tanzania. The repainted Ismaili Dispensary is now a cultural centre. The House of Wonders was the biggest building in East Africa and had Africa's first lift when it was built in 1883 as a ceremonial centre by the third sultan. Now the national museum, it is worth visiting just for its intricate doors. Next door the Arab fort is an open forum for food and music.
Further out are the ruins of Marahubi Palace, once home to a harem; Persian baths built for a sultan's wife, with a copper boiler, stone massage table and a row of squat toilets for her private use; and a modest museum in the house where Livingstone stayed before his last expedition in 1866. Even our hotel, the Zanzibar Serena Inn, is a historic site: under the Aga Khan's ownership, a Chinese dispensary and the old communications building have been beautifully adapted to modern tourism.
Stone Town, however, is an extravagant aberration on this island of villages, farms and beaches. Before going near the town we are picked up at the big shed that serves as Zanzibar airport and driven 30 minutes across the island to a beach resort. Like many tourists, we are using Zanzibar as a rest stop after a safari.
Trying to get a sense of the place, we take in groves of coconut palms and earth houses, men on bicycles, veiled women scrubbing clothes in the streams, working donkeys and indolent dogs. On the edge of the Jozani Forest wildlife sanctuary, endangered red colobus monkeys swing from red-leafed almond trees. Heaps of coconuts, bananas and mangoes suggest no one, human or animal, goes too hungry.
Police stop us several times to look at our car's condition (the window is cracked from a falling mango). The next day we will read in the Tanzanian Guardian about an attack by the opposition party, the Civic United Front, on the ruling Party of the Revolution's headquarters in the capital. But no one discusses it.
Inside the security gates of Breezes Beach Club we enter an international resort with flamboyant Zanzibar style. Our suite has tiled floors and a bed with flowing mosquito net. Thatched-roof pavilions beg us to lounge on carved wooden daybeds under fluttering silk. Bougainvillea, frangipanis and palms frame a long stretch of white powder sand that leads to pale green sea ringed by a thunderous reef.
We are on the windy east coast of Zanzibar island, where dozens of guesthouses and three large hotels share the shore with the homes of fishermen and other workers; the north is where overcrowding really threatens. At dusk we walk through shells and seaweed on the empty beach. Men on bikes slip by on the wind. One stops to say "Jambo" and offer tours; another tries to steer us towards his family house and art gallery. Crows rather than seagulls "cark" on the sand.
An eerie wildness sends us in to focus on dinner - a fabulous Swahili buffet of seafood, spicy sauces, salads and mounds of fruit and pastries. Invisible bushbabies cry out from the trees. Resort cats wander around our feet and with some encouragement one purrs in my lap through the night's entertainment of Swahili drums and dancers.
Our surroundings seem more benign next morning as sunrise turns the sea mauve, wading birds pose like garden statues and the hotel staff rake kelp into piles. We build a routine around the fast-moving tide. "It's all a bit of voodoo," says the English dive master when asked how to calculate its ups and downs.
At high tide we swim, and watch windsurfers and flying fish from our lounge chairs. The hotel's free snorkelling trips are booked out so all we can do is enjoy reports from returned snorkellers and divers of turtles, barracuda, sharks, moray eels, Napoleon wrasse and king fish.
At low tide we reef-walk in rented rubber shoes, the water lapping over sea urchins, pink anemones, green and orange sponges, black starfish, slugs patterned like tribal art, a transparent sea snake, striped fish and a school of neon green flashes. Fishermen carrying nets and spears stride out to the horizon.
The warm winter days are bracketed by buffet breakfasts and dinners. We skip lunch but give in to afternoon tea under a pavilion during a rare rainy spell. A separate a la carte restaurant offers half-kilo lobsters brought in by the fishermen; a two-person beach hut is popular for dinner proposals and honeymooners. The resort has a tennis court, gym, private cinema and spa, where Apple, the Thai masseur, ends her rubdown by digging her knees into my back.
Breezes' owner, Nathalie Raguz, born in Kenya of European parents, is one who defends traditional Zanzibar and worries about unsympathetic development. She supports the nearby village and has employed hundreds of locals as builders, woodcarvers and staff at Breezes and the neighbouring luxury villa resort, the Palms.
I mention that I'm reading Zanzibar, a novel by the English journalist Giles Foden, based on the 1998 bombings of US embassies in Dar es Salaam and Nairobi. Foden writes that one of the terrorists was Zanzibar-born and speculates that he and his cohorts prepared their attack on a small island off Zanzibar. Impossible! says Raguz. Foden's thriller is despised in a small community where everyone thinks they know everything that goes on.
Beach holiday over, we cross the island to Stone Town via a spice farm. The golden days of the spice trade are long over but many farmers make a living from small plots. One of them, Wadi, challenges us to recognise plants such as vanilla, ginger and cacao; opens cardamom pods and offers the black licorice-flavoured seeds; digs up orange tumeric roots; slices off cinnamon bark; plucks clumps of green cloves and peppercorns; cracks nutmegs to reveal their lacy red mace; smears red lipstick plant on his lips.
Edward, a grinning teenage boy from the nearby village, shimmies up palm trees to bring down young coconuts and presents us with hats, baskets and necklaces he weaves from palm fronds. Our tour ends with a fruit tasting and the obligatory purchase of powdered spices.
In the village we visit a young woman in her clean, bare, blue-walled mud house. A pot of rice simmers under a coconut-shell fire in her yard and two little girls in frilly dresses stare and chatter at the visitors. With no English, our hostess graciously serves lemongrass tea and shows us how she grates coconut sitting on a low stool with a jagged blade attached, then soaks it to make milk for cooking. The husks are turned into twine, nothing wasted. The people of Zanzibar - dignified, courteous, sometimes pushy, sometimes opaque - tell as interesting a story as its buildings. In Stone Town we're advised it's rude to photograph strangers, so we fill our mental album with images: straight-backed women in black with hennaed feet; tailors bent over old Singer sewing machines in dingy shopfronts; vendors pushing carts of coconuts, charcoal and brooms; cooks selling barbecued squid and flat bread at the waterfront park; self-possessed children who take our hands. "Jambo! Jambo! Jambo!" we all say, again and again. "Karibu," they add. Welcome.
DESTINATION
Zanzibar
GETTING THERE
Return economy airfare with Emirates from Sydney to Dar es Salaam via Dubai cost $2355. There are connections to Zanzibar on local airlines or by ferry and hydrofoil. There are also flights from Sydney to Johannesburg and Nairobi on Qantas, British Airways and South African Airways, with local connections to Zanzibar.
STAYING THERE
Wildlife Safari offers a package for $1595 a person, twin share, that includes return flights from Dar es Salaam to Zanzibar, two nights at the Serena Inn in a standard room with breakfast, four nights at Breezes Beach Club in a deluxe room with breakfast and dinner and airport and hotel transfers. Contact Wildlife Safari in Perth on 1800 998 558 or see www.wildlife-safari.com.au
WHEN TO GO
Zanzibar's winter, from mid-May to October, is warm and mostly dry with cool nights. January to March is hot and humid. Avoid the long rainy season between March and early May and the short rains in November-December.
WHAT TO TAKE
Visa for Tanzania (obtained either in Australia or on arrival); malaria tablets; US currency (especially $1 notes), which can be exchanged for Tanzanian shillings, though most places accept it; modest clothing (no topless bathing).
THINGS TO DO
Combine a visit to the dhow workshops and Mangapwani slave caves north of Stone Town with lunch at the nearby Serena Beach Club. Take a ferry to Pemba island for spices, ruins and beaches, or to small islands such as Prison and Mafia (lovelier than their names) for turtles and snorkelling.
mirrored on www.ismaili.net
---