---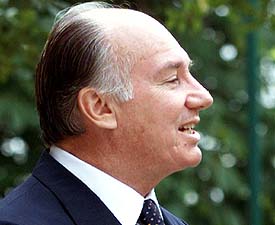 http://www.dailystar.com.lb/article.asp?edition_id=10&categ_id=2&article_id=8163
The Daily Star
Wednesday, September 08, 2004
Aga Khan: Democracy, pluralism key to stability
Imam lists fundamentals for prosperity
By Daily Star Staff
BERLIN: Aga Khan, the 49th hereditary imam of Shiite Ismaili Muslims and founder of the Aga Khan Development Network, said Tuesday that democratic governance, pluralism and civil society are the three preconditions for developing countries to be transformed into peaceful, modern societies.
Speaking at the fifth German Ambassadors Conference, the theme of which was "The Future of the Near and Middle East," the Aga Khan stressed the need to mutually reinforce democratic governance, pluralism and civil society to create an environment in which societies in developing countries could develop and prosper.
Emphasising the importance of stable and competent democratic governance, the Aga Khan said that nearly 40 percent of UN members were failed democracies, spanning the Muslim world, Latin America, Eastern Europe and Africa.
"Democracy is fragile. It is susceptible to failure at any time, in any society," the Aga Khan said, before adding that there was a strong probability that numerous forms of democratic government in the Near and Middle East were likely to be tested in coming decades.
"Elections and the existence of political parties do not by themselves guarantee stable governments, competent political leadership and respect for the constitution. Nor do they guarantee good economic management and the absence of corruption," he said.
In calling for support to these governments, the Aga Khan underlined that any development strategy must include education and developing a wider understanding of the institutions and processes of constitutional democracy.
Speaking on the need to sustain and enhance pluralism, the Aga Khan emphasised that pluralistic societies were "a product of enlightened education and continuous investment by government and all forces of civil society in developing value and recognition for one of humanity's greatest assets: the diversity of its peoples."
He argued that the rejection of pluralism had bred destructive conflicts across the globe.
"We must approach this issue today within the dimension of civilizations learning about each other, and speaking to each other and not exclusively through the more narrow focus of interfaith dialectic. Such an approach would also be immensely beneficial to the Muslim world" the Aga Khan stressed.
The Aga Khan noted that civil society was a third precondition that made a significant contribution to human development, "filling the gaps between government, the business sector and the family.
"Civil society underwrites human progress by acting as a stabiliser or buttress in times of economic slowdown and social stress. When democracies are failing, or have failed, it is the institutions of civil society that step into the breach," he said.
---