---
http://www.kentimes.com/23may05/nwsstory/news1.html
Kenya Times
23 May 2005
Mirrored on www.ismaili.net
Media urged to be responsible
By David Ochami & Eric Otieno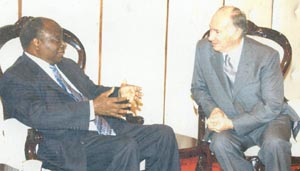 President Kibaki confers with the Aga Khan after officially opening the IPI Congress yesterday
The media was on the receiving end yesterday at the beginning of this year's International Press Institute, IPI, congress in Nairobi, challenged as it was by key speakers of fostering negative stereotypes about Africa, hatred, propaganda and underdevelopment on the continent.
But two leading congress organisers Wilfred Kiboro of the Nation Media Group and IPI Director Johann Fritz made a spirited defence of the media, urging caution while seeking to demonstrate that media practise is more valuable and complex than has been appreciated and portrayed by policy makers and ordinary people.
They warned that the media and its critics must tread carefully in order that its moral and professional commitments to society's good are not compromised at the altar of commercial interest, materialism, patriotism and political gain.
Mr Kiboro said that in as much as the media in Africa is expected to eschew propaganda and bias and assist governments to achieve development, journalists should not be expected to play the role of spin doctors.
The international press was accused of harping on historical prejudices to portray Africa as a conflict ridden continent while the local press was accused of following suit by ignoring positive developments thus sabotaging economic development.
Presidents Mwai Kibaki of Kenya, Paul Kagame of Rwanda and the head of the Ismaili Muslims, the Aga Khan said that the media has not always been part of the solution to Africa's problem for it had joined in the conspiracy to distort the continent's potential and development agenda continent through acts of omission and commission.
The leaders, however, noted that the media plays an invaluable role in democratisation, promoting good governance, economic growth and peace that must be harnessed to the continent's development goals.
Describing the media as a "double aged sword" that can build and destroy President Kibaki said the press has in the past promoted conflict and genocide and failed to adequately highlight positive economic, political and social changes on the continent and move away from harping on the negative yet his government has allowed journalists and media houses to thrive unmolested.
"Africa is undergoing many positive changes and has many success stories to tell. In this regard some of the changes taking place in such areas as governance, economic reforms, regional trade partnerships, political stability and improvement of the quality of lives of the people of this continent.
"These are areas we should talk about often." The president said that the fact that 42 nations on the continent had held multiparty elections in the last ten years, with 18 African nations recording growth rates of over 5 per cent last year are pointers to positive changes that should be highlighted in the press.
He also cited the peace processes in the Sudan, Somalia and Burundi as major milestones that have opened new chapters of peace in Africa.
He said that although his government is committed to press freedom there was need to regulate media practise "to ensure that the freedoms are exercised responsibly for the good of the press and the general public."
He said the government was working on an appropriate legal framework to promote responsible journalism.
President Kagame, however, cautioned that the local and international press was not solely to blame for Africa's negative coverage because it is not journalists per se who have created conflicts, corruption and disease that generate such publicity.
"We in Africa must take responsibility for the issues that generate this type of reporting."
But he nonetheless launched an attack on past media practices blaming it for promoting a conspiracy of silence on African tragedies and the 1994 genocide in his country that consumed about a million people.
He said that current media coverage of African issues was motivated by historical and anthropological paradigms that saw Africa and Africans in no other light other than primitivity, savagery and proneness to war that have refused to die 40 years after independence.
President Kagame said such publicity had denied Africa foreign investment and consigned it to economic backwardness despite the continent's vast resources and called for a paradigm shift to explode myths and reflect Africa's positive side such as the post genocide reconciliation efforts in Rwanda and the African Union led Sudan, Burundi, Somalia and Cote D'Ivoire peace processes.
He said that Africa has also made huge steps in economic management and good governance through the New Partnership for African Development, NEPAD, and called for a change in the world order to give Africa a voice and influence on global issues.
The Aga Khan pointed out that media coverage of the continent was at times adversarial and negative and called for changes that promote greater partnership between journalists and government.
He said that Africa has suffered what he described as "manipulative journalism" promoted by materialism, commercial interests, civil society and practised by ill educated reporters. This kind of journalism, he said preys on gullible journalists and is in conflict with public interest, Africa's human development and moral aspirations.
He observed that a number of journalists were not infrequently ill equipped to follow complex issues affecting Africa yet they have adopted holier than thou posturing and are intellectually dishonest.
He subsequently called for investment in the education of journalists to meet current expectations, saying that journalism at its best can be a strong pillar in building Africa's future.
---