---
Daily Nation
23 June 2005
Mirrored on www.ismaili.net
Partnership plea for better media
Story by MUGO NJERU
Publication Date: 05/23/2005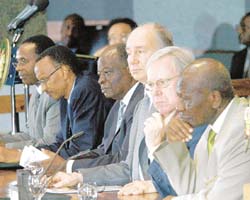 From left: IPI global chairman Wilfred Kiboro, Rwandan President Paul Kagame, President Kibaki, the Aga Khan, IPI director Johann P Fritz and Vice-President Moody Awori at the official opening of the International Press Institute World Congress and 54th General Assembly in Nairobi yesterday. Photo by Joseph Mathenge
A call to cultivate better working relations between the media and governments in Africa was made yesterday.
They could forge partnerships without compromising their roles if they appreciated each other's needs, the opening session of the International Press Institute (IPI) world congress was told.
These partnerships with governments, the private sector and with pressure groups could become a growing source of relevant and responsible information, said the Aga Khan, who gave the keynote address of the day, entitled the Promise and Potential of Africa.
Such partnerships could also ensure competent comment and insight and be constructive and cooperative, even as the press remained a free and independent player, commercially successful at the same time that it was socially responsible, he added.
The congress and 54th annual assembly, which has brought together media executives, editors and leading journalists from all over the world, was opened by President Kibaki.
Also addressing the congress, at the Kenyatta International Conference Centre, were Rwanda's President Paul Kagame, IPI chairman Wilfred Kiboro, chief executive of the Nation Media Group, and the institute's director, Mr Johann Fritz.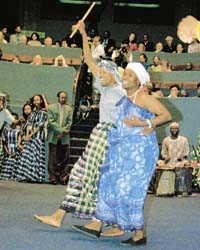 Dancers from Kaloleni entertain guests during the official opening of the IPI World Congress and 54th General Assembly at KICC yesterday.
Photo by Joan Pereruan Soon after the opening, the meeting discussed a wide range of issues about journalism and the role of the media in shaping global opinion on issues affecting ordinary people.
President Kibaki said the freedom of the press should be exercised with responsibility.
Objective, fair and accurate reporting should not just be tenets to be studied and talked about in conferences but must be part and parcel of the ethics and professional guidelines of all journalists, he said.
"It is only through observing these standards that journalism will maintain the credibility it deserves, he added.
President Kibaki noted that the press wielded a double-edged sword that could serve to build or destroy, unite or divide people.
He said: "In some cases, hasty publication of information without first verifying its truthfulness has often led to costly and unnecessary law suits, and in some instances even riots that have led to needless loss of lives. I believe you will agree with me that in such cases, no amount of apology will completely wipe out the damage done."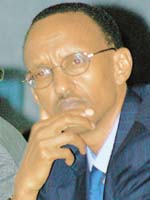 Rwandan president Paul Kagame He went on to praise the crucial role played by the media in development. "An informed society is able to better participate in designing and execution of public policies," he explained.
Delivering the day's keynote speech on "The Promise and Potential of Africa", the Aga Khan stressed the need for journalists to acquire deeper and broader knowledge of new and complex issues that confront Africa.
He said the media could be a cooperative partner of the government, "even as it remains a free and independent player, commercially successful at the same time that it is socially responsible".
The surest way of building Africa was by developing a vibrant media manned by knowledgeable people.
He said: "The major issues in Africa today are complex and elusive and old approaches have often failed. But every day, leaders in Africa and elsewhere are thinking in new ways.
"My central question today, however, is whether we have enough good journalists who know enough about these subjects and can help African audiences understand their African implications."
Underlining the need to understand better the implications for African countries of scientific progress in the 21st century, the Aga Khan cited the example of breakthroughs in stem-cell research, which had the potential to transform approaches to personal and public health. And he continued: "I believe the best journalists are not those who think they know everything but those who are wise enough to know what they do not know."
"Excellence in journalism stems not from arrogant judgementalism but from intellectual humility".
The Aga Khan pointed out that the IPI had raised concerns on the erosion of press freedom in some African countries.
"Respect for press freedom," he said, "grows out of a respect for pluralism as a cornerstone of peace and progress. Pluralism implies a readiness to listen to many voices whether we agree with them or not and a readiness to embrace a rich diversity of cultures."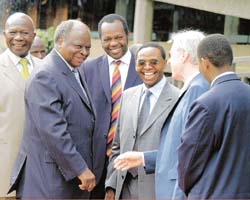 President Kibaki is introduced to the director of the International Press Institute, Mr Johann Fritz, by Nation Media Group chief executive Mr Wilfred Kiboro (centre).
Photo by Joseph Mathenge
He added: "When our diversity divides us, the results can be tragic as we have seen in Rwanda, the Ivory Coast, the Democratic Republic of Congo, the Sudan. But when we welcome diversity, we sow the seeds of stability and progress." He stressed the need to increase dialogue and communication among journalists and "the voices of civil society" namely, politicians, civil servants, business and religious leaders. He said governments should place more emphasis on providing information to journalists to help them better understand policy issues. Background briefings were common in the West, but rare in Africa. Several challenges had hindered the development of journalism in Africa. The lack of well educated people in the profession emanated from the fact that journalism had not been seen as a desirable profession, and that journalists, particularly in Africa, were less well compensated than those who entered other liberal professions.
---
Invest in quality journalism, Aga Khan advises media chiefs
Story by MUGO NJERU
Publication Date: 05/23/2005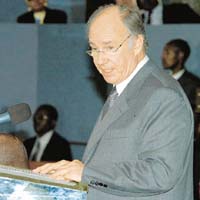 Highness the Aga Khan addresses delegates of the IPI World Congress at the Kenyatta International Conference Centre yesterday.
Photo by Joseph Mathenge
Media owners in Africa were yesterday asked to invest in quality journalism and not primarily set their main agenda on financial profits. The Aga Khan said concerted efforts to invest in quality African journalism could be the beginning of progress.
Said the Aga Khan, the Imam of the Ismaili Muslims and founder of the Nation Media Group: "There is another front on which the battle must be waged, however, and it has to do with media owners and managers.
"Too often, those who set the main agenda see it primarily as a business agenda. Too often, the measure of media success is simply financial profit.
"I think this attitude is wrong because it often makes for manipulative media, distorting and misleading in a narrow pursuit of readers and ratings."
The Aga Khan, who was delivering a keynote address during the opening of the talks in Nairobi yesterday, said such a scenario meant that journalism was insubordinated to entertainment, and that the need to inform must yield to the need to please.
Responsible and relevant reporting, he said, was not the priority in that business model. "Instead, the power of the Press is used to turn traditional value systems on their heads to take what is really quite unimportant and to make it seem very important, and to take what is trivial and make it look titillating.
"The damage that can be done by such distorted journalism is especially heavy in Africa, offending African value systems, distracting African energies and mis-serving African development."
Although journalism at its best can be a strong pillar in building Africa's power, manipulative journalism is not only a nuisance, but also has a destructive power, he said.
One of the major challenges facing Africa, he said, is the availability of sufficiently educated people for the media industry.
"Good journalism requires the best we can muster in terms of disciplined learning, intelligent analysis, prudent judgement and nuances of expression," he said.
Saying that one of the disadvantages of being a media proprietor and critic was that one was obliged to follow one's own advice, the Aga Khan commented it was on this premise that the Nation Media Group was taking up these challenges.
He said the need for competent journalists had been expanding with the growth of the group from a small newspaper company publishing one daily in 1960 to a multi-national, multi-media one with publications in three countries, along with a growing radio, television and internet presence.
To improve on the human resource base, he said, the organisation had been organising school outreach programmes designed to attract the best and brightest students to the profession.
"Working in partnership with governments, with the private sector and with institutions of civil society, African media can, I am sure, be a burgeoning source of relevant and responsible information, a reliable locus of competent comment and insight, a constructive and cooperative partner even as it remains a free and independent player, commercially successful at the same time that it is socially responsible," he said.
courtesy: DAILY NATION 23/05/05
---