AP - Sat Jul 23, 1:01 PM ET
(AP Photo/PA, David Davies
Saturday July 23, 2005.
---
His Highness the Aga Khan and Britain's Queen Elizabeth II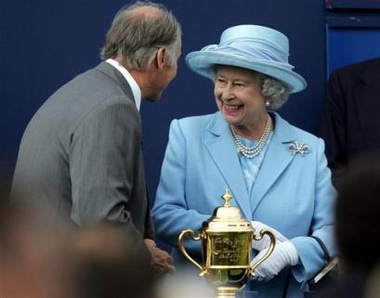 Britain's Queen Elizabeth II talks with His Highness Aga Khan, the owner of winning horse Azamour ridden by jockey Mick Kinane who won the King George VI and Queen Elizabeth Diamond Stakes at Newbury racecourse, Berkshire, England.
----
It was a fantastic race with the horse being absolutely last till about 75% of the race was over, and then it overtook all the other horses to come in first.
---