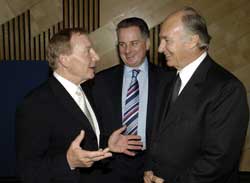 His Highness the Aga Khan, Sir Tom Farmer, Scottish recipient, and the Rt. Hon. Jack McConnell, First Minister of Scotland, hold discussions before the Award Ceremony.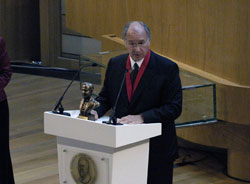 His Highness the Aga Khan gives his acceptance speech upon receiving the Andrew Carnegie Medal, as Sally Magnusson, BBC presenter, and Mary Robinson, former President of Ireland and UN High Commissioner for Human Rights look on.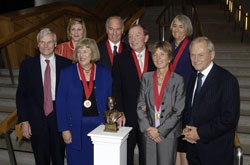 Medal recipients pose for a group photograph with the Presiding Officer, Rt. Hon George Reid MSP, and Chair of the Carnegie Medal Committee, William Thomson.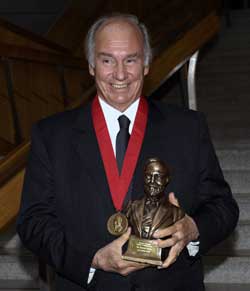 His Highness the Aga Khan, one of the six recipients of the 2005 Andrew Carnegie Medal of Philanthropy.