Karachi, Pakistan -
http://app.com.pk/n56.htm
Dec. 3 2005

---
Prime Minister suggests need to modify education system in country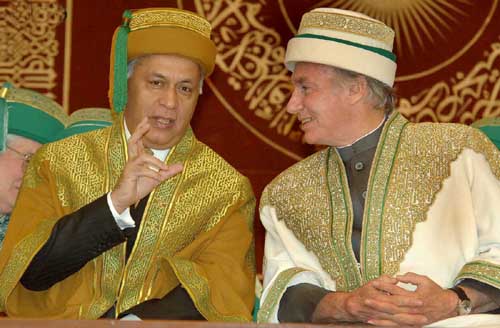 Prime Minister Shaukat Aziz here Saturday called upon students in particular and people in general to realize that 21st century focusses on a global society and knowledge based economies where education is to play a key role.
Speaking at Aga Khan University Convocation of 2005 batch, comprising graduates of medical college, school of nursing and institute for educational development, Mr. Aziz said it will be educational quality of the work force that will determine the country's economic performance.
"To be a globally competitive player, we need to acknowledge a new paradigm and our education system needs change," he said.
The Prime Minister further underscored the need for an educational culture that harnesses the potentials of country's younger generation completely and produces innovative people.
Addressing, particularly the medical graduates, he said medical education has been aptly termed as the noblest of professions which demands a blend of professional training with ethical values and human attributes.
Reiterating his commitment towards quality health care for all in Pakistan, with major emphasis on prevention and control of diseases, Shaukat Aziz said the government vision for health sector was based on "health for all".
"We recognize that as a nation we have to continue work towards universal, affordable, quality healthcare for every single Pakistani," he said.
To fullfil the target, he said while all country men must continue to work towards that goal, the government on its part is attempting to do its bit by increasing expenditure in health sector from 19 billion in 2000-01 to Rs. 31 billion in 2004-05.
The Prime Minister observed that it would be upto each of those who graduated on Friday, to assume their place as one of the architects of changing health care world as they have the information and experience the country needs.
"It is your time to lead. You have been given the chance to use your education and training during the most exciting ever in medicine, " he said.
The Prime minister further said that revolutions in biology and technology, change in demographics and the shifts in health care offers incredible opportunities and fundamental challenges.
He further referred to the fact that each medical university could be witnessed focussing on research to pace up with technological advancements and to deal with the challenges of new diseases apart from quality education and training to update skills on continuous basis.
Through research, we hope to see that just as medicine conquered bacteria in the 20th century: the 21st century will see the defeat of viruses: that chronic illness will be cured or tamed: so that many of the problems we have seen in diseases around the world will finally be put at bay; that our grandchildren will have to look in history book to learn about the devastation of Cancer or AIDS, he hoped.
The Prime Minister addressing the medical graduates, said in the midst of revolutionary changes being witnessed in the field of medicine - health of patients must be their first concern.
Students were suggested to organize their own 'Serve the Community' groups and help impact positive changes in community health care, community knowledge and community attitudes.
Shaukat Aziz referring to the strong emphasis on community health and community education, that forms part of learning at AKU, observed that this may provide AKU graduates a distinct advantage in dealing with situations such as being faced by citizens affected by the earthquake.
He expressed his absolute confidence that on basis of their vigorous training, with the support of modern methodologies and equipment, with emphasis on community services and with sheer professional excellence they would live upto the demands made on them with utmost competence.
The Prime Minister on the occasion also appreciated the voluntary participation of doctors, surgeons and nurses who took care of the injured and traumatized during the catastrophic earthquake of October 8.
He further observed that excellent work of the team of Community Health Services experts from AKU who conducted surveillance with the WHO for control of infections and diseases and additional medical services contributed by the Health Services component of the Network was impressive and timely.
Shaukat Aziz also recognized that Aga Khan Development Network and AKU continue to be deeply involved in rehabilitation, planning construction, educational and medical services in the earthquake ravaged areas in particular and other parts of the country in general.
He on the occasion also expressed his deep appreciation for His Highness the Agha Khan for announcing a substantial amount for the quake victims during the International Donors Conference in Islamabad last month. The US $ 6.2 billion have been pledged by the participants of the conference for reconstruction of the earthquake hit areas during the conference, he said.
Referring to the contribution made by Aga Khan and the many institutions founded by him and whose aid and relief operations were coordinated under the umbrella of Agha Khan Development Network, the Prime Minister said it had touched the people of Pakistan.
The convocation was also addressed by His Highness Agha Khan, Chancellor, Agha Khan University, Shams Kassim Lakha, President, AKU and Syeda Rubina Zaidi, a representative of the Class of AKU Graduates 2005 - she delivered the validatory speech.
The ceremony was also attended by Sindh Governor, Dr. Ishrat ul Ebad, Sindh Chief Minister, Dr. Arbab Ghulam Rahim, Chairman and members of the Board of Trustees, diplomates, proud parents, faculty members of AKU and notable different sections of the society.
---