Saturday, 3 December 2005
Karachi, Pakistan
http://www.geo.tv/main_files/pakistan.aspx?id=96744

Change in education system need of the hour: says Aziz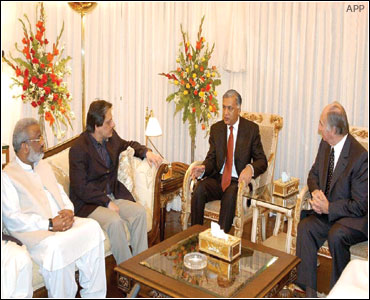 KARACHI: Prime Minister Shaukat Aziz here on Saturday reiterating his commitment towards quality health care for all in Pakistan, with major emphasis on prevention and control of diseases, said the government vision for health sector was based on "health for all".
Change in education system is need of the hour, he said at Aga Khan University Convocation of 2005 batch, comprising graduates of medical college, school of nursing and institute for educational development.
"We recognize that as a nation we have to continue work towards universal, affordable, quality healthcare for every single Pakistani."
To fulfill the target, he said while all country men must continue to work towards that goal, the government on its part is attempting to do its bit by increasing expenditure in health sector from 19 billion in 2000-01 to Rs. 31 billion in 2004-05.
The Prime Minister further underscored the need for an educational culture that harnesses the potentials of country's younger generation completely and produces innovative eople.
Addressing, particularly the medical graduates, he said medical education has been aptly termed as the noblest of professions which demands a blend of professional training with ethical values and human attributes.
Prince Karim Aga Khan and Aga Khan University President Shams Qasim Lakha also addressed the function.
---