http://www.earthtimes.org/articles/show/141276.html
Photos:Reuters
Tuesday, November 13, 2007

---
Prince Karim Aga Khan and German Foreign Minister Frank-Walter Steinmeier attend an economic conference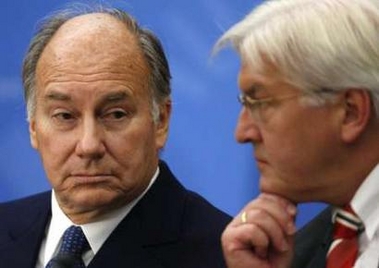 Reuters - Tue Nov 13, 6:54 AM ET - Philanthropist Prince Karim Aga Khan (L) the spiritual leader of the Ismaili Muslims and German Foreign Minister Frank-Walter Steinmeier attend an economic conference about Europe and central Asia hosted by the German Foreign Ministry in Berlin November 13, 2007. REUTERS/Fabrizio Bensch MB ( GERMANY )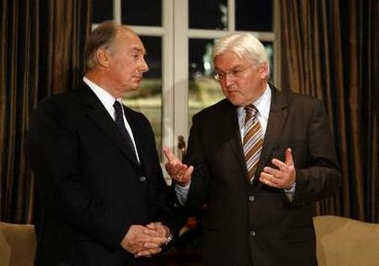 Reuters - Mon Nov 12, 11:59 AM ET - German Foreign Minister Frank-Walter Steinmeier (R) talks to philanthropist Prince Karim Aga Khan, the spiritual leader of the Ismaili Muslims, during a meeting in Berlin November 12, 2007. REUTERS/Miguel Villagran/PoolMB ( GERMANY )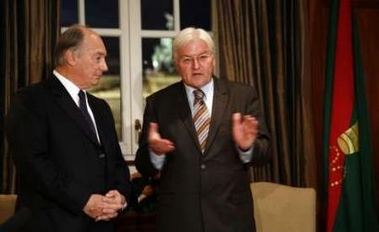 Reuters - Mon Nov 12, 11:58 AM ET -
German Foreign Minister Frank-Walter Steinmeier (R) talks to philanthropist Prince Karim Aga Khan, the spiritual leader of the Ismaili Muslims, during a meeting in Berlin November 12, 2007. REUTERS/Miguel Villagran/Pool (GERMANY) look at the flag(r)
Berlin - The Aga Khan, spiritual leader of the Ismaili branch of Islam, called Tuesday for increased trade and international investment in Central Asia . New sources of economic growth that offer a long-term perspective were urgently needed for the region, he told an international conference at the German Foreign Ministry in Berlin .
He called for a "supportive environment" that includes transport systems to make broader cooperation possible between Azerbaijan , Kazakhstan , Kyrgyzstan , Tajikistan , Turkmenistan and Uzbekistan .
German Foreign Minister Frank-Walter Steinmeier said the region was growing in importance for the European Union because of its huge reserves of oil and natural gas.
Central Asia was one of the most dynamic regions in the world with an average annual growth rate of 10 per cent among its states, he said, backing the Aga Khan's call for broader cooperation.
Regional cooperation and economic integration were the best way to achieve prosperity and international stability, the foreign minister said.
But he warned that further cooperation depended on an independent judiciary in the region and all sides adhering to contractual agreements.
EU Foreign Affairs Commissioner Benita Ferrero-Waldner said trade between the EU and Central Asia had grown rapidly in recent years, and the EU was now its biggest trading partner, accounting for almost 30 per cent of foreign trade.
The Aga Khan, who last year received a German tolerance prize as a builder of bridges between religion and society, also met Tuesday with German Chancellor Angela Merkel.
He is founder and chairman of the Aga Khan Development Network, a private foundation which promotes social and economic developments as well as cultural projects around the world.
---