First Ismaili Electronic Library and Database - Welcome to the First web site dedicated to H.H. The Aga Khan and to Ismailism.

Updated on March 25, 2023 at 00:05 EST


____________________________________________



Book of the week:
Nargis Mawjee: "PIR HASAN KABIRDIN The Saviour of countless souls". Born in Sabzwar, Persia, Pir Hasan Kabirdin– also known by the name of Pir Hasan Shah – was the 27th Pir since Prophet Muhammad according to our previous dû'â, and the eldest son of Pir Sadardin. This monograph goes through the genealogy of Pir Hassan Kabirdin, the famous story from Anant Akhado that he wrote on the turban to be offered to the Imam of his time and much more. [Click Here to read]


2023, March 18: Princess Zahra speaks at AKU 2023 Global Convocation
WEBCAST! https://www.youtube.com/watch?v=3cZ8I9y1OAE - Complete Ceremony: Click Here!


2023, March 18: Live webcast: Global Convocation of the AKU and celebrations of the 40th Anniversary. Princess Zahra Speech. - Follow here! [MORE]


ISMAILI ANDROID APPS


RECENT NEWS
2023, March 13: Prince Rahim Aga Khan at Commonwealth Day Ceremony at Westminster Abbey at 2.15pm. More]

2023, February 24: Prince Rahim and the President of Portugal visit the Royal Treasure Museum. Prince Rahim, together with his younger son, Prince Sinan, and the President of Portugal, Marcelo Rebelo de Sousa, yesterday visited the Royal Treasure Museum at the Ajuda National Palace in Lisbon, at the invitation of the Minister of Culture, Pedro Adão e Silva.. [MORE]

2023, February 13: Prince Rahim calls for sustainable approach to city design at the World Government Summit 2023 [MORE]

2023, January 18: The IIS held a reception to honour Dr Farhad Daftary and mark his retirement as Co-Director and Head of the Department of Academic Research and Publications earlier this month. The event took place at the St Pancras Renaissance Hotel, London, with Prince Rahim Aga Khan in attendance and was attended by staff, students, governors and leaders of the Ismaili community. During a speech at the event celebrating the work of Dr Daftary and his invaluable contributions to the Institute, Prince Rahim announced that His Highness the Aga Khan had decided to attach Dr Daftary's name to the IIS PhD Scholarship programme. These awards will henceforth be called the Farhad Daftary PhD Scholarships. [MORE]

2022, December 08: Nairobi, Kenya this week played host to Nation Media Group's fourth annual Kusi Ideas Festival, which brought together bold voices to discuss the climate crisis and its impact on Africa. The opening session included remarks by Prince Rahim on behalf of the Aga Khan Development Network. This year's conference, centred on the theme of climate change and aimed to identify uniquely African responses and solutions to what has become one of the defining issues of our time.[More] [Video Speech]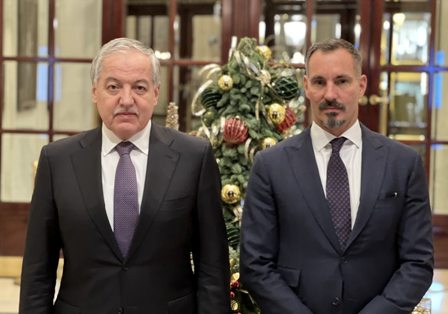 Paris, France, 8 December 2022 - Prince Rahim Aga Khan today met with His Excellency Mr. Siodjidin Muhriddin Aslov, the Foreign Minister of Tajikistan, in Paris. Mr Aslov is in France for meetings with the French government. [More]

2022, December 8:The Nation Media Grp's kusiafrica is taking place between 8-9 December in Nairobi, Kenya. Prince Rahim will be making remarks, on 8 December 2022, starting at 9:00am EAT. NMG was established by Mawlana Hazar Imam in 1959. [More]

2022, Dec 2: Prince Hussain Aga Khan on AKU President's Challenge for Climate Solutions - The AKU President's Challenge for Climate Solutions 2022 concludes today after an overwhelming response and participation from students across the University and beyond. As part of the months-long Challenge, the students worked on the theme. [VIDEO SPEECH]

2022, November 15: Protugal - AKF_Global and Sintra City Council presented the results of Bytes4Future, a digital upskilling programme for vulnerable youth. Prince Rahim Aga Khan joined the Mayor of Sintra, Basílio Horta, at the Centro Cultural Olga Cadaval, Portugal. [MORE]

2022, November 11 - 12: Paris Peace Forum The Paris Peace Forum convened world leaders and civil society in Paris to explore how to ride out the multi-crisis that the world is experiencing. AKDN is a Founding Member of the Forum and was represented by Prince Amyn and Prince Rahim. [MORE]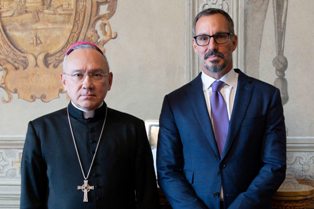 9 November 2022 - Vatican: Prince Rahim Aga Khan today met His Excellency Reverend Dom Edgar Peña Parra, the Substitute of the Secretariat of State, during a courtesy visit to the Vatican. Prince Rahim Aga Khan also briefly met His Holiness Pope Francis and conveyed respectful good wishes. Prince Rahim, the eldest son of His Highness the Aga Khan, the 49th hereditary Imam of the Shia Ismaili Muslims, was accompanied by a small delegation of officials to dialogue on potential areas of future cooperation, such as improving the quality of life of disadvantaged communities and combating climate change. The institutions of the Ismaili Imamat and those of the Catholic Church closely cooperate in Portugal to deliver early childhood development and care for the elderly, amongst other areas. [MORE]

2022, November 9: Princess Zahra awarded Cartier Award Wednesday in a ceremony held at Dorchester Hotel in London for her horse Vadeni being the best over 3 years! [More]

2022, November 8:The Carrousel du Louvre opens its doors to the Fine Arts Paris & La Biennale, from November 9 to 13. On that occasion Prince Amyn Aga Khan who has been associated to the world of Art was interviewed by the French radio station SUD RADIO on 8 November 2022. It is a long 52 minutes interview in French where Prince Amyn talks of his life with his brother, Prince Karim Aga Khan IV, his interaction with his grandfather and father, the kindness of Begum Mata Salamat and anecdotes such as when her jewelry were stollen. The interview covers a broad range of subjects including the philanthropy philosophy inherent to his family, his study at Harvard, his interest playing piano in his youth, how he was hired in a lift in Paris for his work at the United Nation in New York, the Aga Khan Museum in Toronto and more. [More] [VIDEO INTERVIEW]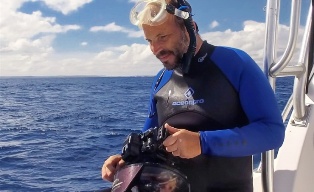 2022, November 2: Manama,(BNA): The Bahrain National Museum hosted the opening ceremony of the exhibition "The Living Sea", showcasing fascinating underwater photography by Prince Hussain Aga Khan and documentaries by Simon Piccoli, on Wednesday, November 2, 2022. After its successful opening in Venice, Italy, the "The Living Sea" makes its second stop in the Kingdom of Bahrain. The opening ceremony was attended by Prince Hussain Aga Khan,H.E the President of the Bahrain Authority for Culture and Antiquities, Shaikh Khalifa bin Ahmed bin Abdullah Al Khalifa and Shaikha Mai bint Mohammed Al Khalifa Chairperson of the Board of Directors of the Arab Regional Center for World Heritage and; in addition to a number of Ministers and Ambassadors. - [News here!]


2022, October 31: Aga Khan Award for Architecture: [More news here!] [Video Speech Princess Zahra here!]

2022, October 29: Aga Khan Music Award: Aga Khan Music Awards & Aga Khan Award for Architecture Livestream: Tune in for the 2022 Aga Khan Award for Architecture and Aga Khan Music Awards being jointly hosted this weekend in Muscat, Sultanate of Oman. The prize-giving ceremonies and gala concerts, to be attended by members of Mawlana Hazar Imam's family, will be streamed live on The Ismaili TV this Saturday, Sunday, and Monday. The first-ever joint Awards event promises to be a unique occasion for all those interested in music or architecture. The Music Awards gala concert and prize-giving ceremony will take place over two evenings on Saturday and Sunday [More here!] [Videos and News here!] [Video Speech here!]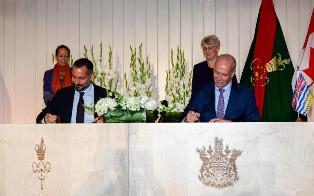 2022, September 29:2022, September 29: The Signing Ceremony of an Accord of Cooperation between the Government of British Columbia and the Ismaili Imamat. The Honourable John Horgan, Premier of BC, and the Honourable Katrine Conroy, Minister of Forests, represented the Government of British Columbia. Prince Rahim Aga Khan and Princess Zahra Aga Khan represented the Ismaili Imamat. @ 9:30am Pn Pacific, Vancouver, Canada. smaili Imamat (represented by Prince Rahim Aga Khan) and B.C. (represented by Premier John Horgan) today signed an accord of cooperation committing to joint efforts in tackling the effects of climate change. Photo credit: Moez Visram © Provided by Vancouver Sun. Representatives of Ismaili Imamat were in Vancouver Thursday morning to sign an accord of cooperation with B.C. Premier John Horgan and Forests Minister Katrine Conroy. Prince Rahim Aga Khan and Princess Zahra Aga Khan attended the event on behalf of the Aga Khan at the Pan Pacific Hotel. The Ismaili Muslim community and the B.C. government are working together to share climate change adaptation strategies in the wake of deadly flooding in South and Central Asia. Representatives of Ismaili Imamat were in Vancouver Thursday morning to sign an accord of cooperation with B.C. Premier John Horgan and Forests Minister Katrine Conroy. [More] [Video]


2022, September 28: In Edmonton, the University of Alberta inaugurated the Diwan Pavilion at the Aga Khan Garden, Alberta, in the presence of Prince Zahra. The Aga Khan, spiritual leader of the Shia Ismaili Muslims, gifted the $25-million garden to the University of Alberta and it opened four years ago in the U of A Botanic Garden southwest of Edmonton. The design also includes the Diwan, or pavilion, which was just recently finished, adding indoor gathering space. Additional donors funded construction of the Diwan to the tune of $5.5 million. On Wednesday, the Aga Khan's daughter was received by Premier Jason Kenney and Alberta Lt.-Gov. Salma Lakhani, who herself was left a stateless person after her family was forced from their home in Kampala, Uganda.[More]

2022, September 27: LIVE on AKM YouTube - Aga Khan Museum: Lapis Digital Benefit The digital program featured remarks by Prince Amyn Aga Khan, soulful musical performances, and Inspiring conversations. Click here to join https://youtu.be/c8xYFywF-U4 or live also on this main page on 27th Sept 2022. [VIDEO]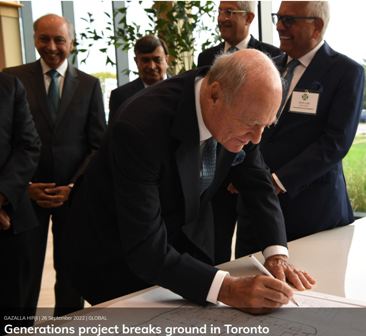 2022, September 27: In Toronto, Prince Amyn Aga Khan attended the ground-breaking of Generations, a not-for-profit community-based housing initiative to support vulnerable individuals, families, and seniors within an intergenerational framework. Prince Amyn attended the groundbreaking ceremony today for Generations Toronto, a multi-generational housing development close to the Ismaili Centre in Toronto. Distinguished guests included Ontario Premier Doug Ford, Toronto's Mayor John Tory and local and national leaders of the Jamat. Based on a successful pilot project launched in Calgary during Mawlana Hazar Imam's Golden Jubilee in 2007, Generations Toronto is a unique community campus that will offer services to bring together and support its residents and neighbours. Its fundamental premise is to enhance the value and dignity of human life. In addition to 390 units of rental housing and a 122-bed long-term care facility, the complex will include an early childhood development centre, medical clinic offering primary and mental health care services, and spaces for cultural, social, and educational programming. It will also feature a community kitchen to offer daily low-cost meals for residents and seniors living in the surrounding area.From there he proceeded to the ICT and the AK Museum. [More]

2022, September 26: Prince Amin Aga Khan attended meetings at AKM in Toronto.

2022, September 25: His Worship Mayor John Tory honoured the Aga Khan through the presentation of the Keys to the City of Toronto, and announced the ceremonial naming of the Aga Khan Boulevard in Toronto. Mayor Tory was joined by Guest of Honour Prince Amyn Aga Khan, representing the Aga Khan. Location: ICT - The Ismaili Centre Toronto | 49 Wynford Drive | Toronto, ON - 1pm to 3pm. [More]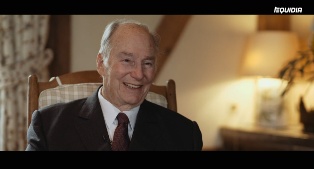 2022, September 22: 100 years of Mowla's horses: A CHESS GAME WITH NATURE - This film is a centenary celebration of the Aga Khan Studs. It covers four generations of the Aga Khan family and their passion for thoroughbreds starting with the purchase of a few yearlings by the Aga Khan III. The story follows his rise as an owner and breeder in Europe, then passing on to his son, Prince Aly Khan. His Highness the Aga Khan, at the head of the operation for more than 60 years and recently accompanied by his daughter Princess Zahra Aga Khan, have developed this breeding to make it one of the leaders on the international scene. Discover this story through interviews and exclusive images. [More]

2022, September 19: Following an invitation from Buckingham Palace, H.H. The Aga Khan, Mawlana Hazar Imam requested his eldest son Prince Rahim to represent him at the funeral of Her Majesty Queen Elizabeth II, which took place today. Prince Rahim attended the Committal Ceremony held at Windsor Castle this afternoon. [More]

2022, September 13: @ 2:20pm: The Seas of My Youth: Talk with Prince Hussain Aga Khan - Natural History Museum. An illustrated exploration by Prince Hussain Aga Khan with NHM Principal Mammal Curator, Richard Sabin. [VIDEO]

2022, September 4: Prince Rahim Aga Khan on Sunday announced that the Imamat will contribute $10 million towards flood relief efforts in Pakistan. The development was announced by Prime Minister Shahbaz Sharif in a tweet in which he thanked Prince Rahim for the generous contribution. [More]

2022, August 9: Prince Amyn Aga Khan arrives in Houston this afternoon at 1pm. He was bestowed an Honorary Citizenship to the City of Houston in recognition of his dedication to welfare of humanity. There will be a live presentation from Houston, USA, on Thursday 11 August, featuring reflections on the upcoming Ismaili Center from Prince Amyn and Mayor of the City of Houston Sylvester Turner. [More] [Video Speech]

2022, July 19: City Council on July 19 and 20, 2022, adopted the following: 1. City Council assign the ceremonial name "Aga Khan Boulevard" to Wynford Drive between Don Mills Road and the east side of the Don Valley Parkway overpass. 2. City Council authorize the General Manager, Transportation Services, to alter the street name signs on Wynford Drive from Don Mills Road to the east side of the Don Valley Parkway overpass to reflect both the official street name and the ceremonial name "Aga Khan Boulevard". [MORE]

2022, July 19: : Prince Amyn Aga Khan visited the Aga Khan Museum in Toronto, Canada. The next day on July 20, he attended the banquet in honour of the donors of the Museum. These are pics from the 19th when Prince Amyn Aga Khan arrived at the Museum on what will be soon known as the Aga Khan Boulevard in Toronto. [MORE]


2022, July 08: Lisbon, Portugal: Aga Khan Master Musician and Guest Artist: At the Castelo de Sao Jorge in the presence of President Rebello de Souza of Portugal and Prince Amyn Aga Khan. [More News and Photos] [VIDEO]

2022, June 29: Princess Zahra accepts winner's trophy at Sandown after Vadeni won the 2022 Coral-Eclipse with jockey C. Soumillon. [VIDEO] [News]

2022, June 27: An Ismaili Imamat delegation led by Prince Rahim is attending the Ocean Conference in Lisbon at the invitation of the United Nations (UN). The conference aims to raise awareness and action around the alarming degradation of the planet's oceans – which not only provide us with oxygen, food and livelihoods, but act as a giant carbon sink. 2022, June 28 - Prince Rahim Aga Khan meet UN Secretary General Antonio Guterres at the United Nation Ocean Conference 2022. The Conference ends on July 1st 2022. [MORE News and Photos]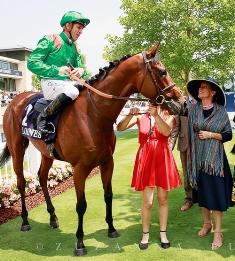 2022, June 19: Princess Zahra Aga Khan and her daughter Princess Sara were seen at the racecourse in Chantilly for the Prix de Diane 2022. More Photos [here!]

2022, June 18: Princess Zahra gave the Speech at the UCA 2022 Graduation. Read her Speech and watch her VIDEO[here!]

2022, April 09: Aga Khan constructing Sh13.8bn Cancer Centre in Dar es Salaam: Dar es Salaam. The Aga Khan Hospital, Dar es Salaam, has officially launched the construction of its state-of-the-art Cancer Treatment Centre that will benefit up to 1.7 million people in Dar es Salaam and Mwanza regions. The centre, which will be built at the hospital in Dar es Salaam, will receive up to 125 patients in need of radiation services per day. The construction comes at a time when official data from the Health minister, Ms Ummy Mwalimu, shows that 68 out of 100 cancer patients die each year. [More News, Photos] [[Video]]

2022, March 31: Speaking on behalf of His Highness the Aga Khan, Prince Rahim urged the international community to act with generosity and speed at a time when so many Afghans are in peril.[More News, Photo and Video!] [Video]

2022, March 26: Lisbon, Portugal - Ismaili CIVIC Portugal hosted a blood donation campaign today at the Ismaili Centre in Lisbon. The Portuguese Minister for Health and Prince Hussain attended the pop-up clinic, organised to boost blood reserves in the country - Prince Hussain Aga Khan joins Jamati, AKDN, and Government leaders[More News and Photos!] Ismaili CIVIC Portugal hosted a blood donation campaign today at the Ismaili Centre in Lisbon. The Portuguese Minister for Health and Prince Hussain attended the pop-up clinic, organised to boost blood reserves in the country.

2022, March 19: Aga Khan Music Program workshop concluded yesterday Friday 18 March at the Cultural Hall, which was presented to a number of musicians in the Kingdom of Bahrain, in the presence of His Highness Prince Amyn Aga Khan. The workshop focused on reading the creative process of Agha Khan band's senior musical works in the light of traditional and contemporary music, including a free session of various musical instruments, as well as advanced lessons in improvisation and composing between cultures. [MORE]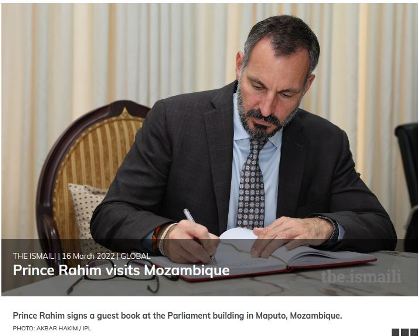 2022 March 17-19. Prince Rahim Aga Khan arrived in Maputo for a three-day visit, during which he will meet senior state officials and leaders of the Jamat, and attend the inauguration ceremony of the Aga Khan Academy Maputo. Prince Rahim's visit began at the Ministry of Gender, Children, and Social Welfare for a meeting with Minister Nyeleti Brooke Mondlane. The Minister congratulated Prince Rahim on the inauguration of the Aga Khan Academy Maputo, as she fondly recalled her childhood, when she and her siblings attended Aga Khan schools in neighbouring Tanzania. Prince Rahim also visited the Presidential Palace in Maputo, where he met with President Filipe Nyusi. Prince Rahim conveyed Mawlana Hazar Imam's greetings and warm wishes to President Nyusi, and acknowledged the long-standing relationship between the Ismaili Imamat and Mozambique..[More News and Photos!] [VIDEO]

2022 March 15. Prince Rahim is visiting the United Arab Emirates (UAE) on the invitation of His Excellency Sheikh Nahayan Mabarak Al Nahayan, Member of the Cabinet and the Minister of Tolerance for the United Arab Emirates. Prince Rahim met with His Excellency Sheikh Nahayan at Expo 2020, Dubai.[More News and Photos!]

2022 March 14th. Commonwealth Day 2022: Our Unity is Our Strength [Video]

2022 March 6th and 7th. Prince Rahim Aga Khan made a Speech at AKU & SDSN Climate Change Conference - Pakistan's Challenges of Climate Change, Health and Nutrition in the Context of Sustainable Development Goals: Strategy for Change. [LINK] [Video]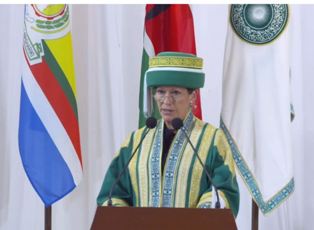 2022, February 26: Princess Zahra Aga Khan attended in person in Nairobi, Kenya the Global Convocation Ceremony of the AKU this year. The ceremony was held virtualy online at 12:30pm London, UK time. Speakers at AKU convocation on February 26, 2022: Princess Zahra Aga Khan, Trustee AKU - Peter Kalmus, Chief Guest and Sulaiman Shahabuddin, President AKU [Follow here for News] [VIDEO]

2022, February 23: Princess Zahra Aga Khan at the GCP Virtual Award Ceremony. Hosted by Secretary General Meredith Preston McGhie and featuring Jury Chair, the Rt. Honourable Joe Clark, the ceremony will announce the three winners of the 2021 Global Pluralism Award. Each Award will be presented by a member of the Global Centre for Pluralism's Board of Directors: Princess Zahra Aga Khan, the Rt. Honourable Adrienne Clarkson and James Mwangi. [More Info] [Video]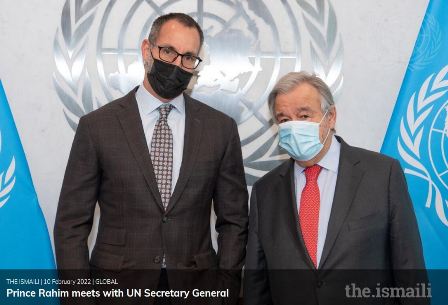 2022-02-09: Prince Rahim Aga Khan met with United Nations Secretary General Mr Antonio Guterres at the UN's Headquarters in New York on 9 February 2022. During the meeting, Mr Guterres and Prince Rahim spoke about the longstanding partnership between the Aga Khan Development Network and the United Nations, and discussed ways in which to enhance collaboration between the agencies of the two institutions to improve the quality of life of marginalised communities in particular, in Asia and Africa. Recognising also the historical relationship between the UN and the Ismaili Imamat, the Secretary General and Prince Rahim agreed on the importance of regular consultation to strengthen collaboration and achieve mutual objectives. [More]


2022, February 04: H.H. The Aga Khan, Mawlana Hazar Imam met with His Excellency Marcelo Rebelo de Sousa, President of Portugal, in Lisbon on 4 February 2022. During their meeting, Hazar Imam and President Marcelo spoke about several matters of mutual interest, including the presence and activities of the Ismaili Imamat and the Aga Khan Development Network in Portugal, Portuguese-speaking countries, and around the world. Mawlana Hazar Imam was joined at the meeting by Princess Zahra and her daughter Miss Sara Boyden. [More]

2022, January 17 - AGA KHAN sends Message of Peace for Jamat of Badakshan and Tajikistan - NEW TALIKA: "I reiterate my farman to my Jamat to reject any form of violence, disorder, illegal activity, or other actions which are contrary to the laws of the land. I especially advise members of my Tajik Jamat, wherever they live, not to engage in any activities that might impede the restoration of peace and good order." [MORE]

2022, January 3 to 8: Prince Rahim visited Kenya from 3rd January to 8th January 2022. This was the first visit to Nairobi and the game parks for Prince Sinan and his elder brother Prince Irfan. [More]

2021, December 28: One hundred years after the Aga Khan III made his first purchase at the Tattersalls July Sale, the bloodstock empire he built, and which has been carefully cultivated by his grandson, HH the Aga Khan IV, continues to thrive. Following Tuesday's first instalment of the early years of the Aga Khan Studs, the second part sees the baton pass in sad circumstances, heralding a major restructuring of the operation. The text is reproduced by kind permission from the Aga Khan Studs' centenary brochure, written by Emma Berry and John Berry. [More]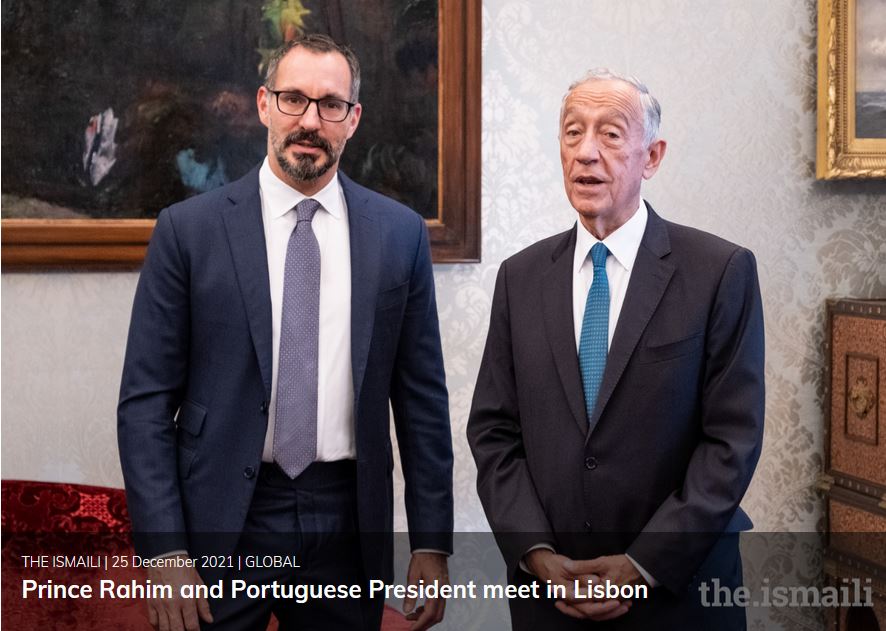 2021, December 25: Prince Rahim met with His Excellency Marcelo Rebelo de Sousa, President of Portugal at the Presidential Palace. At the meeting, Prince Rahim conveyed to the President and the people of Portugal Season's Greetings and best wishes for the new year. The President and Prince Rahim acknowledged the strong relationship between the Ismaili Imamat and Portugal, and spoke about the presence and activities of the Aga Khan Development Network (AKDN) in Portugal, Portuguese-speaking countries, and globally. [MORE]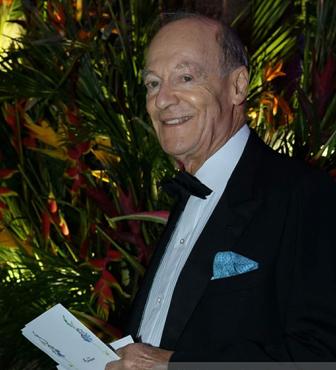 2021, November 18: PARIS, FRANCE - Prince Amyn Aga Khan attends at the Opera Comique Gala in Paris, France. (Photo by Luc Castel/Getty Images)

2021, November 6: Taliban leader meets with top Aga Khan Foundation member, discusses strategy for Afghanistan. Kabul [Afghanistan], November 6 (ANI): The Taliban's spokesperson Zabihullah Mujahid said that the top leaders of the group met with the envoy of the Aga Khan Development Network (AKDN), Akbar Pesnani, to discuss a comprehensive development strategy for Afghanistan, Sputnik reported. Hanafi said that the Taliban is ready to assist the foundation in its mission in the country. Emphasising that the joint activities should focus on the development of the health care and education systems in Afghanistan, Hanafi said that the Taliban had already begun creating conditions for girls' education in the country. Pesnani also stated that the current priority should be the development of female education in Afghanistan. [LINK 1] [LINK2]

2021, October 26: Prince Amyn and Portuguese President inaugurate NOVA's Westmont Hospitality Hall in Lisbon - The Westmont Institute of Tourism and Hospitality is the latest development in the partnership between NOVA University's School of Business and Economics and Westmont Hospitality Group, a joint initiative aiming to develop and promote education in hospitality, tourism, and service management. (The Ismaili) [MORE] [VIDEO]

2021, October 12: 02:00 PM in London - World Habitat Award - WHA 2020 Presentation Event: Celebrating Outstanding Housing Solutions: The event will feature the two World Habitat Award Gold winners: Newcastle City Council, UK and the Aga Khan Agency for Habitat, Pakistan. [More]

2021, October 1st: AGA KHAN MUSEUM - ONLINE 2021 Lapis Digital Benefit - 8:00pm to 9:00pm EDT - eye-opening stories based on masterpieces in the Museum collections, to stellar performances and intimate talks by eight artists from North America, East and South Asia, the Middle East, and the Iberian Peninsula. [Video]

2021, September 6: Ceremony to name The New Private Wing Complex at AKU in Karachi, Pakistan as the Princess Zahra Pavilion. [More] [Speech-Video]

2021, August 6th - 10th : Third International lsmaili Studies Conference, "Histories, Philosophies and Communities," organized by the Leiden University Shii Studies Initiative. [All 50 speeches video here] [Full Program and More]


2021, July 13: The Aga Khan and Prince Rahim were received at the Hotel de Matignon, office of the Prime Minister in Paris, for a meeting with French Prime Minister Jean Castex. They discussed international issues, the situation of Islam in France and the common projects between the Ismaili Imamat and the French Government. [More News]

2021, June 19: The Aga Khan IV delivered a virtual address at the University of Central Asia's first-ever convocation on 19 June. The ceremony will honour the first class of undergraduate students at the School of Arts and Sciences and will be livestreamed from the University campuses in Khorog, Tajikistan and Naryn, Kyrgyzstan. The Governors of Naryn and Gorno Badakhshan were in attendance along with the Ministers of Education for Kyrgyzstan and Tajikistan. [VIDEO] [PHOTOS AND NEWS]

2021, June 11: Charter Granting Ceremony and Inauguration of the Aga Khan University Centre, Nairobi - His Highness the Aga Khan , H.E. President Uhuru Kenyatta, signed the granting of the Charter and unveiled the plaque. Mowlana Hazar Imam participated via video-conference virtually and the whole program was live webcast.[More] [Video]

2021, June 6: The Aga Khan's horse Saiydabad ran at Chantilly and came fourth in the race. [Photo & More]

2021, June 5: The films Beacons of Hope and 7 Seas by Prince Hussain Aga Khan was launched on http://tv.ismaili/ on World Environment Day, 5 June 2021.

2021, May 22: at 3:30pm EAT, webcast of the Global Convocation of the AKU. H.H. The Aga Khan addressed the graduates. Chief Guest was Melinda French Gates, Co-chair and Trustee of Bill & Melinda Gates Foundation [NEWS] [VIDEO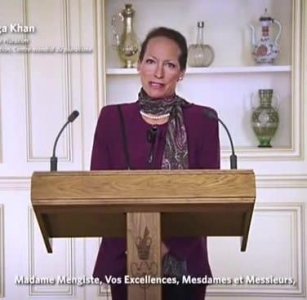 2021, May 19: Pluralism lectures - This year the opening remarks was by Princess Zahra Aga khan. [More news] [Webcast here: Webcast here]




Did You Know?

Imam Muhammad bin Islam Shah ascended to the Masnad of Imamat in A.H. 827. At that time his residency was in Shaher-e-Babak in Iran. Jamats in Hindustan were informed of the Imamat of Muhammad bin Islam Shah by way of Talikas delivered through our Holy Pirs. The Imam was also presented Maal-e-Wajbaat (dasond etc) from His Murids from everywhere by way of the Pirs. At that time Pir Tajdin was appointed as our 28th Pir by the Holy Imam.[MORE]