Welcome to the Diamond Jubilee Anniversary Exhibition of our beloved Imam Mowlana Sultan Mohamed Shah
August 17, 1945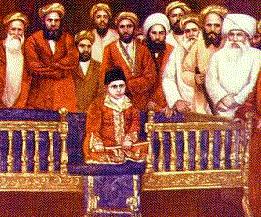 ---
A LIVE DESCRIPTION! At a quarter past five on the afternoon of Sunday, March 10, 1946, a deep hush fell upon the Brabourne Stadium in Bombay. Here over 100,000 people, from various parts of the world., had come to witness one of those magnificent ceremonies which arouse wonder and amazement in the minds of men. It was on this day, and at this hour, that His Highness the Aga Khan was to be weighed in diamonds to celebrate the sixtieth year of his Imamate...
---
From National Geographic and others media
COLOR PHOTOGRAPHS OF THE JUBILEE
---
From Platinum Jubilee Book, pg. 74-80
WORTH HIS WEIGHT IN GOLD, DIAMONDS AND PLATINUM
The Platinum Jubilee of His Royal Highness Prince Aga Khan, marking the celebration of 70 years of his Imamate is scheduled to be held in February, 1954.

Prince Aga Khan has already been weighed in gold and diamonds. These occasions provided his devoted followers a welcome chance to pay a befitting tribute to their spiritual lord who has organised them into a well-knit community and led them to great moral and material progress...
---
From Qayyum Malick "Aga Khan: Guide, Philosopher.."
FRIEND TO THE WORLD OF ISLAM
Prince Aga Khan arrived dressed in a long, white silk robe spangled with silver. Accompanying him were his two sons Prince Aly Khan and Prince Sadruddin, and the Begum who wore a white sari studded with one thousand, two hundred diamonds, worth 45,000 pounds...
---
Extract from Memoirs
It is said that we live, move and have our being in God. We find this concept expressed often in the Quran, not in those words of course, but just as beautifully and more tersely. But when we realize the meaning of this saying, we are already preparing ourselves for the gift of the power of direct experience ...
---
More extract from Memoirs
I can only say to everyone who reads this book that it is my profound conviction that man must never ignore and leave untended and undeveloped that spark of the Divine which is in him ...
---
Speech to Women...
---
Speech on language choice for Pakistan
---
Our Beloved Mata Salamat
---
Islam, Religion of My Ancestors..
---
Photo-Album of Imam Sultan Mohamed Shah
---
---