Aga Khan IV - Timeline - 1961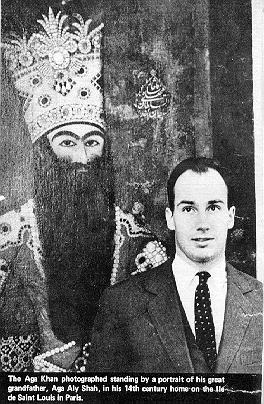 1961
March 16, 1961: Met the late President Kennedy at the White House, Washington.
May 5 - June 1961: Long tour of East Africa. Told reporters He would examine the situation of the community "in the light of the constitutional changes now taking place in East Africa".

Visited Kamengo Muslim Junior Secondary School, Fort Portal. Laid foundation stone of Aga Khan Nursery School, Fort Portal. Visited Aga Khan Nursery School, Nairobi. Visited Aga Khan Platinum Jubilee Hospital, Nairobi. Attended lunch given for Him by the Speaker of Kenya's Legislative Council, Mr. Humphrey Slade. Attended lunch given in His honour by the Commissioner for Pakistan in Nairobi, Mr. F.K. Shoban. Attended exhibitions of swimming and diving at the Aga Khan Primary School swimming pool, Nairobi. Spoke in Nairobi at dinner organised by Kenya branch of Commonwealth Society and Royal Overseas League on "The British Commonwealth Nation." Attended banquet organised by East African Newspapers (Nation series) Ltd. Visited Nation House. Opened a 11,000 Pounds school for handicapped children on the outskirts of Nairobi.
]May 10, 1961: Addressed Lion's Club, Nairobi, on "Multi-Racial Society".
May 11, 1961: Arrived in Mombasa.
May 11, 1961: Performed opening ceremony of 25,000 pounds nursery school, Mombasa.
May, 1961: Visited Aga Khan Special School for handicapped children. Attended municipal sundowner given by the Mayor, Alderman P. Forster. Opened a 15-bed maternity wing at Aga Khan Hospital, Mombasa.
May, 1961: Arrived in Zanzibar. Visited the 14-acre site of a new secondary school. Called in at the Aga Khan Club. Had tea with the Dowager Sultana and other members of the Zanzibar Royal Family.
May 13, 1961: Addressed Rotary Club of Mombasa on "Education in the Country".
May 14, 1961: Arrived in Dar es Salaam. Ismailia Supreme Council welcomed Hazar Imam with a splendid buffet dinner.
May 15, 1961: Began an inspection of the plans and site of a new nursery school. Visited the Primary School and Ismaili Secondary School. Attended football match in Dar es Salaam, accompanied by Prime Minister Mwalimu Julius Nyerere.
May 21, 1961: Arrived in Uganda.
May 1961: Laid foundation stone of a new building for the Aga Khan Club, Kampala. Attended buffet dinner given in His honour by the Ismaili Community. Visited Aga Khan Secondary School. Attended cocktail party given in His honour by Acting Governor of Uganda, Mr. G.B.Cartland. Opened the Assembly Hall in Kampala. Was shown around the Kibuli Senior Secondary School. Visited Nabisunsa Muslim Girls' School where He held an informal meeting of the East African Muslim Welfare Society, Uganda Branch. Performed Opening ceremony of Highridge Housing Estate, Nairobi. Inspected nursery school. Visited East African Newspapers (Nation Series) Ltd. Offices. Chaired meeting of the Constitutional Committee charged with the task of making changes in the community's Constitution.
May 28, 1961: Mowlana Hazar Imam departed for London.
August 1961: Convened first Conference of the Presidents of the World Ismailia Associations at Cannes.
October 16, 1961: Arrived in Bombay for a six-day tour of India.
October 16, 1961: Maharashtra Friendship Society held reception in honour of Mowlana Hazar Imam at Bombay.
October 16, 1961: "The Indian Express" newspaper wrote; "The Aga Khan is refreshingly mature. He is also modest, a quality which does not go always with successful youth. The Aga Khan represents a unique institution for, though without a kingdom, he wields spiritual power over many millions of followers spread all over the world and he also exercises considerable degree of temporal authority for a man occupying this unique position."
October 23, 1961: Headed delegation of East African Muslim Welfare Society. Arrived in Tunis from Cairo to visit Muslim kingdoms of Tunisia, Libya and Morocco, emphasising the need to help the cause of Islam.
December 8, 1961: Attended Tanganyika Independence celebrations as an official guest.
December 10, 1961: Performed<!-a href= ../speech/s611210.html><!-/a> opening ceremony of Aga Khan High School, Nairobi.

PHOTO ALBUM 1961
Mowlana Hazar Imam getting into an awaiting car, all packed and ready to go


With President Julius Nyerere, Tanzania, 1961


With President John F. Kennedy, Washington D.C., 1961


Mowlana Hazar Imam with Ismaili leaders in East Africa, 1961. From l to r, back row: Jimmy Verjee, Pyarali K. Pirani, Fatehali Dhala, Nick Kasum, G. K. Ishani and J. Ahmed. Immediately behind His Highness are Lady and Sir Eboo Pirbhai and Mrs. Fatehali Dhala


Timeline Main Page