Aga Khan IV - Timeline - 1962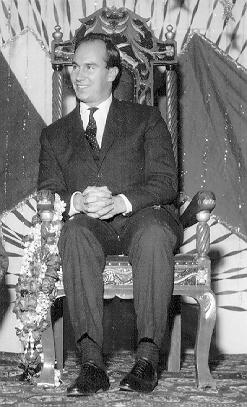 1962
January 13, 1962: As an accomplished skier, Hazar Imam won the "Roberts of Kandhar" challenge cup at Davos, Switzerland, the oldest challenge cup in the world for downhill ski racing.
A year later in 1963, Hazar Imam represented Iran in the 9th Winter Olympic Games at Innsbruck.
January 24, 1962: As Chairman of an international consortium, announced plans to build a $27 million tourist resort in north-east Sardinia over a period of 15 years.
February 1962: Mowlana Hazar Imam's Uncle, Prince Sadruddin, was appointed United Nations Deputy High Commissioner for Refugees.
March 17, 1962: The Mayor and Town Council of Arzachena (Sardinia) made Mowlana Hazar Imam an Honorary Citizen of the Town.
May 14, 1962: At Rawalpindi, Mowlana Hazar Imam presented Gold Cup to the Pakistan Hockey Federation for a Premier Hockey Tournament.
May 23, 1962: Was Chief Guest at the annual dinner of the Pakistan Society, London.
August 12, 1962: Approved the "The Constitution of the Councils and Jamats of Shia Imami Ismailia Muslims of Pakistan" and said, "Look to the spirit and not the letter of the Constitution."
September 7, 1962: Performed opening ceremony of Muhammad Girls' Academy, Karachi.
September 7, 1962: Arrived in Karachi for two-day visit en-route to India.
September 8, 1962: Performed opening ceremony of a dispensary and day nursery at Jan Bai Maternity Home, Kharadhar, Karachi.
September 8, 1962: Hazar Imam opened the Mohamadi Girls' Academy at Malir, Pakistan, set up by Ismailia Youth Services. (photo)
September 9, 1962: Laid foundation stone of Rs.6.5m Aga Khan Secondary School project at Karachi for which He donated 10 acres of land.
September 11, 1962: Arrived in Bombay three-week tour of India. Visited Gujrat, Mahashtra, Calcutta, Madras and Hyderabad, among other places.
September 16, 1962: Laid foundation stone of Kamar Education Trust hostel at Ahmedabad.
September 22, 1962: Welcomed to Calcutta by the Speaker of West Bengal Legislative Assembly.
September 22, 1962: Chief Guest at dinner hosted by All Nations Club of Calcutta.
September 30, 1962: Laid foundation stone of Abdul Wahid Moledina School, Poona and donated Rs. 25,000. [extract of speech]
October 4, 1962: Arrived in Nairobi from India en route to Uganda to attend Independence celebrations.
October 5, 1962: At Nairobi, opened new premises of "Africa Club", of which He donated the construction cost.
October 8, 1962: Participated in Uganda Independence celebrations as a Special Guest.
October 16, 1962: Gave 3,500 pounds to Tanganyika National Fund.
November 12, 1962: Donated Rs.50,000 to President's East Pakistan Flood Relief Fund.
November 22, 1962: Went to Manilla, met the President Macapagal at the State University. According to the Manila Times dated Nov. 23 and the Philippines Herald , He urged greater Muslim efforts in Education and said that the rise of man depends on power of mind.
December, 1962: Established Aga Khan Chair of Islamic Studies at American University of Beirut.

PHOTO ALBUM 1962

Timeline Main Page