Lowering The Veil
The Aga Khan Award for Architecture plays a critical role in helping Muslim countries connect to the West.

By Ken Shulman
Photography by Robert Polidori for Metropolis
November 2003

It is magical how the dimensions of Chehel Sutun transform. From afar the seventeenth-century palace has the unyielding heft of a Roman temple. From the base of the reflecting pool, which mirrors the single columns and doubles their number from 20 to 40 (Chehel Sutun means "40 columns" in Farsi), the palace appears almost as a hologram. Upon approach the Safavid-era structure takes body as a fortress, the massive columns becoming mute immovable sentinels that dwarf and devour all approaching human forms.

Yet the most amazing transformation at Chehel Sutun occurs when one steps inside, and the protean palace becomes as intimate and elegant as a silken desert tent. "Here there is architecture and God together," says Hossein Hafezafghorani, a 20-year-old first-year architecture student in Isfahan, leaning against one of the columns. "Here I feel powerful, and proud of my country and its history. Here there is everything an architect needs to understand: these walls, these windows, the way you walk through the space. I still come here often to think, and look at my watch to see that five hours have passed."

In 1980, the first year of the prize's existence, the master jury of the Aga Khan Award for Architecture selected the restoration of three of Isfahan's Safavid dynasty monuments as a winner. The richest architectural prize in the world--monies from each three-year cycle total $500,000--the award was created in 1977 by Prince Karim Aga Khan, the 49th hereditary leader of a sect of 13 million Shia Muslims known as Ismaili. Born of the Aga Khan's disappointment with the public projects he'd commissioned, the award was conceived to recognize design excellence in the Muslim world. By 2001, at the conclusion of the eighth award cycle, 84 projects had been recognized, both in Muslim countries and in those hosting substantial Muslim communities.

Award criteria are deliberately vague. During its 26-year history, various master juries have weighed the merits of aesthetics against those of social utility, and wavered between admiration for innovation and reverence for tradition. Past Aga Khan winners include contemporary public works--the water towers in Kuwait City (1980); historic conservations--Mostar old town, in Bosnia-Herzegovina (1986); and innovative applications of indigenous materials and building techniques--the mud brick Great Mosque in Niono, Mali (1983) and the Stone Building System in Dar'a Province, Syria (1992).

"The Aga Khan Award helps present and reward excellent work in this country," says Darab Diba, a Tehran-based architect and university professor, who has collaborated with the award since 1986 in a variety of functions. "And in countries like this one, where it is not very easy to work, where political turmoil, government pressure, and slow bureaucracies discourage architects from taking commissions, it's a way of showing architects that good work can be done here. And needs to be done."

While it is premature, and probably specious, to suggest that the award has helped foment social change--or even a change in design--in the Muslim world, the winning projects do sketch a revealing portrait of contemporary Muslim society and the conflicts that animate it: tensions between Islam and the West, and between Islam and its own history. In societies where many people long for the trappings--if not the essence--of Western-style capitalism and democracy, attitudes toward the past often ricochet between acritical adoration and acritical disdain. Attitudes toward the West are often equally schizophrenic. These tensions, according to Diba, have helped unravel the Muslim world--and this is evident in its design.

"In Europe they have a direct progression from Greek to Roman to medieval to the urban revolution that spawned civil society," says Diba, who has extensive professional experience in both Iran and Europe. "This gives a logic to their contemporary design and to the public spaces of their cities. In the Muslim world we believe both in God and in civil society. We have very nice traditional architecture. But we don't have the power to transform the spirituality of our lands into a modern language. We end up copying ideas from the West or repeating our own old ideas, neither of which make much sense to us today. The truth of the matter is that in Islamic countries we architects have difficulty believing in ourselves."

It is telling that the first Iranian project to win the Aga Khan Award was a restoration done in collaboration with Western technicians--and that it was done before the Islamic revolution. In 1967, with help from Italian conservators, the government of Mohammed Reza Shah began the restoration of Hasht Behesht, Chehel Sutun, and Ali Qapu. Built during or shortly after the reign of Shah Abbas (1572-1629), Isfahan's Safavid dynasty pavilions, palaces, and gardens are uniquely Persian. Hasht Behesht--whose name translates to "Eight Paradises"--is a two-story latticed pavilion built as a primary residence for the king's harem. The nearby Chehel Sutun was erected to house foreign visitors to the Persian court. Ali Qapu is a three-story palace with an elegant veranda offering an exquisite vantage point onto the magnificent Nagsh-e Jahan square. It once served as the seat of Safavid government.

A systematic study of the structures was undertaken, along with consolidation of the columns of Chehel Sutun and Ali Qapu, removal of Qajar-era stucco, and recovery of underlying Safavid decorative motifs in all three monuments, as well as structural repairs. The Isfahan restoration was finished in 1977, less than two years before the Shah's abdication. In 1980, one year after Iran's Islamic revolution, it was one of fifteen projects--and one of three conservations--selected by the master jury of the first Aga Khan Award cycle. Today the three pavilions are among Iran's most visited monuments, along with Isfahan's Emam and Jameh Mosques.

"There are not many places in this country where a young person can find peace," says 22-year-old architecture student Misagh Mottaghi, gazing onto Isfahan's Nagsh-e Jahan square from the balcony of Ali Qapu. "Especially if you are a woman. Here I can be alone with my thoughts, meet my friends, or simply enjoy the architecture and landscape."

The Isfahan conservation and study project gave Iranian architects vital information about the history of architecture in their country. It also helped train nearly 500 technicians and developed a methodology for scientific restoration in Iran. The country's efforts to preserve its cultural patrimony were recognized again in 2001 when the master jury recognized "New Life for Old Structures"--a project involving a comprehensive restoration of historic homes and monuments in the cities of Isfahan, Yazd, Zanjan, Tabriz, and Boushehr. For example, the Vazir Hammam--a seventeenth-century bathhouse used by government ministers--was converted into a library and educational center for school children.

Nearly 25 years after the Islamic revolution, Isfahan's seventeenth-century pavilions, palaces, gardens, fountains, and bridges are elegant reminders of an era in which Shia Islam and Persian culture merged to create a society distinguished by affluence, creativity, and power--an era that has lingered, despite frequent historical revisions, as a golden age, as well as a model for what Iran might be.

Yet conservation and rehabilitation of historic structures are not sufficient in themselves to fully reconcile Iran with its past. "It is important to demonstrate to the country that the past can coexist with the present," says Bagher Ayatollahzadeh Shirazi, deputy director of the Iranian Cultural Heritage Organization, who coordinated Italian and Iranian conservators during the Hasht Behesht project. "But for a country to truly appreciate its past, that country must also be dynamic and productive in the present. When you are productive and dynamic, when your industry is vital and exports to all the world, you look all around you for inspiration and ideas, including your cultural heritage. Right now Iran is a country that consumes instead of producing. And when you consume, you tend to close your eyes."

Bagh-e Ferdowsi is a 30-hectare park set in the steep rocky gullies that climb northward from Tehran toward the Alborz mountain chain. Commissioned in 1992 by the Tehran municipality and completed in 1997 at a cost of $2.7 million, the park was designed to limit the northward expansion of the Iranian capital and to provide the 12 million inhabitants of the broad congested metropolis with a space for contemplation, recreation, and access to nature. On weekends it is common for more than 50,000 visitors to stroll along the park's shaded stone-paved paths. Some visitors climb farther upward to admire the whimsical anthropomorphic statues the park's creators fashioned out of existing rock formations and boulders. Those willing to brave several hundred additional steps visit the ceremonial houses representing Iran's Azeri, Kurdish, Turkmen, and Zagros ethnicities that are perched along the park's northern border.

The park takes its name from the Farsi word for garden--Bagh--and from Ferdowsi (c. 940-1020), the poet who resuscitated the Persian language from near extinction after nearly four centuries of Arab occupation. A white marble bust of the poet--together with reliefs representing characters from his epic work, the Shahnameh--presides over the park's southern entrance. Ferdowsi is as significant to Persian culture and history as Dante is to Italy's. Yet until recently his name was anathema in Iran. "For about fifteen years after the revolution, anything associated with the Shah's regime was summarily rejected," says deputy cabinet minister Seyyed Mohammad Beheshti, the country's highest-ranking cultural official.

PAGE 1 2 3 | NEXT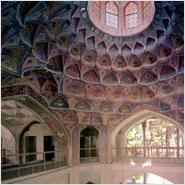 Chehel Sutun
Isfahan, Iran
1980 Aga Khan Winner
Recognized by the first Aga Khan jury, the Safavid Era Palace--built in the seventeenth century and renovated in the 1970s--now inspires the youth of modern day Iran to unravel their cultural heritage.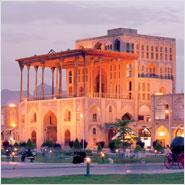 Ali Qapu
Isfahan, Iran
1980 Aga Khan Winner
Overlooking the Nagsh-e Jahan square, the three-story palace is a monument to the nation's fertile and dynamic past, a past that many, including the award's founder Prince Karim Aga Khan, aspire to today.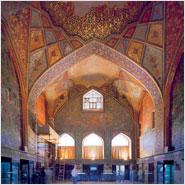 Hasht Behesht
Isfahan, Iran
1980 Aga Khan Winner
Three centuries ago Hasht Behesht--translated from Farsi to mean "eight paradises"--was the primary residence of the king's harem. In the 1970s its renovation (interior above and exterior below) helped train nearly 500 local technicians in the science of historic renovation.